French Aircraft 1939-1945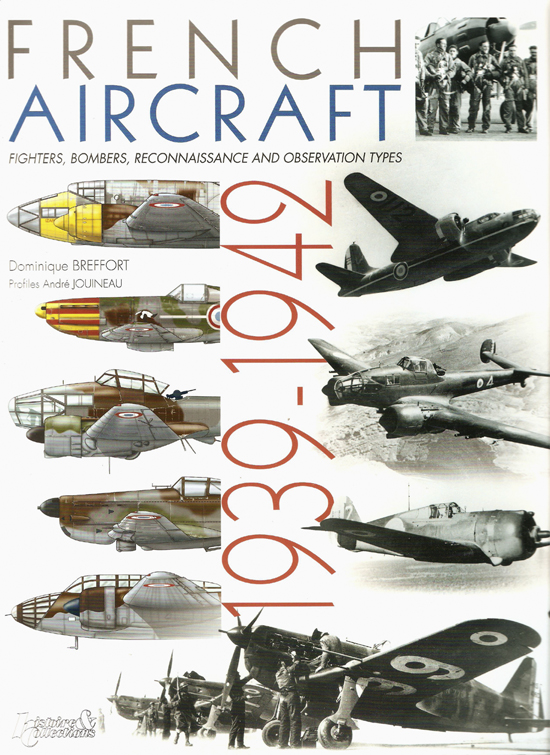 French Aircraft
Fighters, Bombers, Reconnaissance and Observation Types 1939-1942
Author: Dominique Breffort
Usually, I'm a bit annoyed when a publisher combines two separate publications into one and offers it at a cheaper price than the two combined, especially if I'd already purchased the two previous copies. This title, though, is an exception. I already had the two previous and smaller editions of Histoire and Collections French Aircraft (Planes and Pilots series) in my library and thought them 'very special' as Bruce MacAveney likes to tell us! This combination is not only A4 size, stiff card covers and 160 pages, it is slightly revised and updated – and it's a bit cheaper!!! I find having all this info within the one volume also suits me better.
Obtaining anything of quality covering the French Armeé de l'Air in English isn't easy. This is an impressive book written by Dominique Breffort and as the two separate titles are somewhat difficult to find in Australia and if you missed out on them, then don't hesitate. Grab a copy while you can; second chances such as this don't often occur – I doubt you'll be disappointed. I wasn't!
Okay, it's a very close reproduction in layout to the originals and the photos have been occasionally 're-positioned' within the text layout, and you get six larger profiles to the page instead of four, but there's seven pages of unit badges which are not within the originals. The colour profiles by André Jouineau are excellent and the b&w photos come up well on the glossy stock. Text is spaced out a bit more and makes for easier reading. It's quite well translated even if the sentences are sometimes overlong.
My recommendation is to get this one – especially if you want something decent on French Aircraft of the period and you missed out with the earlier publications. This is a great book for any aviation enthusiast at a very competitive price. It is available from Hyland's Bookshop in Melbourne www.hylandsbookshop.com.au or 03 9654 7448 for about $75.
Review by John Baxter
---
Back to Aviation Books from French Aircraft 1939-1945 Book Review