Focke-Wulf FW 190 Volume One 1938–1943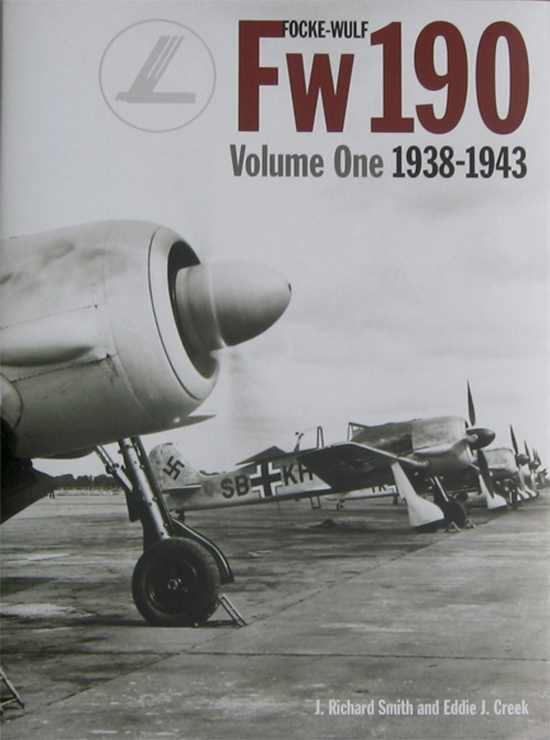 Focke-Wulf Fw190
Volume One 1938–1943
Authors: Richard Smith and Eddie J Creek
To say this book is good is like saying Ferrari and Lamborghini make nice cars! Then again, anything by J Richard Smith and Eddie J Creek is Luftwaffe gold. Top it all off with a Classic Publication production and you've got the best book on the Wurger/Butcher Bird!
As a classic World War Two fighter, the Focke-Wulf Fw 190, in all its variants, has always proved to be a popular topic, but the writers of this book say that what we've seen so far is merely the tip of the iceberg and they've set out to rectify the matter. This is the first in a three volume set, with the possibility of a fourth volume "if our readers demonstrate enough interest in making its production economically viable'! Is the Pope a German?
Number 18 in the Classic series on Luftwaffe aircraft, this is a large book with 336 pages and is profusely illustrated with mainly black and white photos, but some colour, as well as colour profiles interpreting various black and white photos. The research is immense. For instance, Appendix 1 (also the only one) covers all the Fw 190 losses within the text – with date, type, unit, werknummer, markings, pilot and place, six pages in total. Design, pre-production, service trials, problems and solutions, production, introduction into service and operations from 1941 through to 1943 on the Eastern and Western Fronts plus North Africa, along with the Allied response make up a large portion of this particular volume.
This is an extensive work on the A series alone, although there's a little on the proposed B series of Höhenjäger (high altitude fighter) 1; the C series which offered the replacement of the BMW 801 radial with an inline engine either the Daimler-Benz DB 603 or Junkers Jumo 213; and the Höhenjäger 2 with a turbo-supercharged DB 603. Finally, there's a short worded chapter on 'Antons, Friedrichs and Gustavs', which will lead into the majority of the second volume.
Volume Two will cover the remaining production of A, F and G series, engine development and operations on all fighting fronts. Volume Three will describe the Fw 190D series in similar vein, plus foreign users. The fourth volume proposes to include "a very large number of new detailed drawings in addition to photographs. These would, for example, provide aircraft modellers with the most detailed information available from the prototypes through to the D series." Plus a detailed section on camouflage and markings – bring it on!
To say I'm impressed and enthused by this series is a massive understatement. Now, I've seen much and have several books on the Fw 190 in my library anyway, but it seems to me that if you've been made aware of this book and then choose to miss out on this series, it would be somewhat akin to gross negligence to a Luftwaffe enthusiast. Do yourself a favour and grab one as you'll deeply regret missing out on this one (or this series)!
Now, this book isn't cheap – like the Ferrari or Lamborghini sports car mentioned above – but it is definitely value for money. It is a great book for any aviation enthusiast without a doubt; it is an absolute must for a Luftwaffe fan! It is available from Hyland's Bookshop in Melbourne www.hylandsbookshop.com.au or 03 9654 7448 for about $99.
Many thanks to Ms Orietta Colussi of DLS for the review copy.
Review by John Baxter
---
Back to Aviation Books from Fw190 Volume One 1938–1943 Book Review