GRUBBY FINGERS MUSEUM GUIDE

Aviation, Military, Transport and
Maritime Museums outside Australia
---
LE BOURGET AIR MUSEUM
Paris, France
I was fortunate enough to be travelling in Paris in 2010 and, quite by coincidence, I was able to attend the 2010 Paris Air Show at Le Bourget Airport. The airport is also the location for the magnificent Le Bourget Air and Space Museum, so naturally that got a look-in too. Unfortunately, after going mad at the airshow, I ran out of storage space in my camera gear and no extra memory was available from the museum's retail outlet, so I didn't get to shoot a lot of the museums exhibits.
I did see pretty much all of it, though, and it is simply the best and most comprehensive aviation museum I've seen.
The museum is divided up into sections including WWI, airships, WWII, prototypes, rotary wing, space and so on. Each section has it's own gallery containing airframes and exhibits relevant to the theme. Most of the galleries are on several levels with stairs and walkways often crossing the spaces so you can see most of the exhibits from several angles.
The museum is deeply impressive and I'd consider it a must-see for anyone with even a small interest in the subject matter.
---
Image Gallery
To see a photo gallery of the pics I took while I was there in 2010, click on the picture below. There are also full walkaround galleries of the Jaguar, Super Frelon and Alouette III in the walkaround section of my site. If I ever get back there, you can expect to see much, much more from me!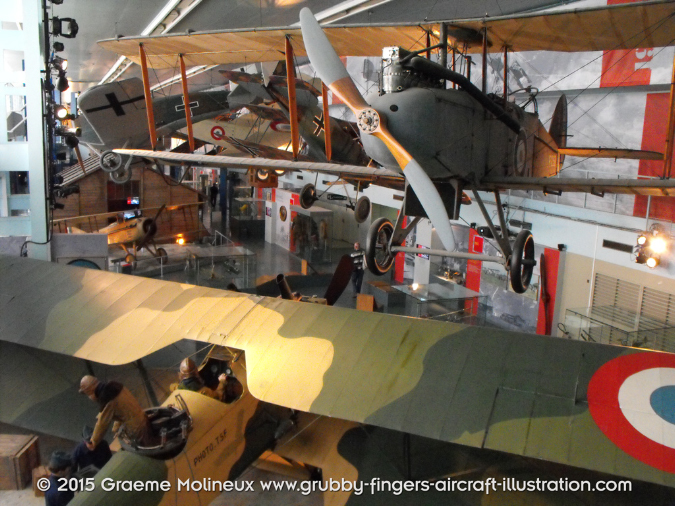 ---
Back to Grubby Fingers Museum Guide
This page was last updated 16 February 2015
---