P-47 Thunderbolt Bubbletop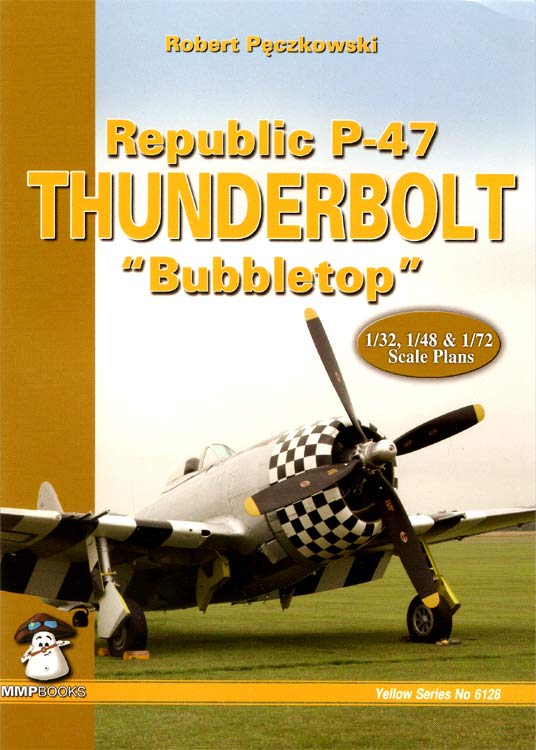 Republic P-47 Thunderbolt Bubbletop
Author: Robert Peczkowski
Publisher: Mushroom Modelling Publications
Once again, Mushroom Model Publications have done a wonderful job of providing both information for the aviation enthusiast in genera,l and the P-47 modeller in particular. This B5 sized, stiff card cover, 160 page book is a real delight. The first forty pages provides a short history of the Thunderbolt in action, with some period colour photos, development and types (P-47 D-25-E; P-47D-26-RA; P-47D-27-RE; P-47D-28-RA/RE; P-47D-30-RA/RE; P-47D-40-RA; YP-47M; P-47M-1-RE; XP-47N, P-47N-1, N-2, N-5 and N-15; P-47N-20-Re and RA; P-47N-25; F-47D & N), production runs and users, along with 43 b&w photos and 19 line drawings plus underwing stores and prop types, all in 1/72nd scale. Then comes the exciting colour part - 120 pages with nearly 200 colour photos, plus additional b&w photos and drawings and completed with 30 colour profiles of USAAF and post war foreign users. These some nice options here if you wish to depart from modelling the USAAF types of WW2.
I reckon that these types of Mushroom Model Publications provide a very good rival to the Squadron Signal 'Walk Arounds' when it comes to the intricate detail many modellers require to lift their model above and beyond the 'usual'. The price is about the same and they do provide a different approach to that of the Squadron Signal publications. Competition and choice – has to be good for us.
And that's exactly what this publication does – it provides both. This booklet also includes 1/48th and 1/32 scale plans. Yellow Series No 6128 and ISBN 978-83-61421-27-6. It's available from Platypus Publications in NSW for $35. Recommendation – if you're building a P-47, this will give you that extra info and pics for the really fine detail. Many thanks to Ley Reynolds for the review copy.
John Baxter
---
Back to Aviation Books from P-47_Bubbletop