The Submarine Six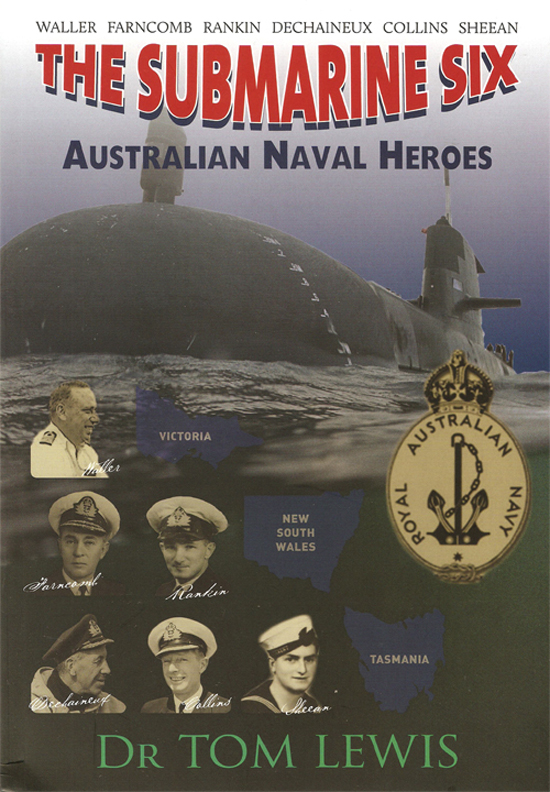 The Submarine Six
Australian Naval Heroes
Author: Dr Tom Lewis
The naming of a Navy ship, let alone a class of ships, is not a task taken lightly. Tradition within the Navy is of extreme importance. So for the Royal Australian Navy to name a class of submarines after six relatively unknown sailors is a huge step. Yet that is what was achieved when the Collins class submarines, all six of them, were named after six heroic sailors of the RAN and their actions during World War Two.
Most of us are usually quite familiar with Victoria Cross winners of the Australian Army and the attention grabbing actions of the Royal Australian Air Force, but the Navy is often the 'forgotten child' when it comes to public knowledge concerning brave and heroic deeds and we seem to hear less about the 'senior service'. This book, by Dr Tom Lewis, changes that and does it very nicely indeed.
Following on from the earlier publications of 'Zero Hour in Broome' and 'Darwin's Submarine I-124', this latest release by Avonmore Books in Kent Town, South Australia, is a beauty! To say I found it fascinating reading is an understatement. It comprises 201 pages with plenty of photos and illustrations, all supporting the stories of six brave Australians, some of whom perhaps did not receive either the acknowledgement or the bravery awards to which they were entitled. Dr Lewis sets out to correct those omissions.
Whilst this will certainly appeal to the maritime and naval readers, it's also a good one for the non maritime/naval brigade. It is a good read and in fact, eye-opening. And it's about Australians! Highly recommended. It's a great book for any military enthusiast at a competitive price and is available from Hyland's Bookshop in Melbourne www.hylandsbookshop.com.au or 03 9654 7448 for about $40.
Many thanks to Avonmore Books and Hylands Bookshop for the review copy.
Review by John Baxter
---
Back to Aviation Books from The Submarine Six