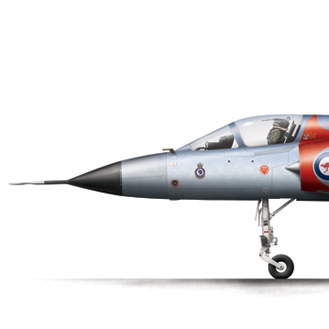 A3-100 in bare metal finish.
New Mirage Prints
Dassault's Mirage is one of the most beautiful aircraft ever operated by any airforce, let alone the RAAF. It's been on the Grubby Fingers Wanted List from day one and it has finally arrived. The first subjects are, in fact, just one subject. The first four releases trace the operational career of one particular airframe from day one to retirement.
A3-15 has been drawn in four of the colour schemes it wore over its service life in the RAAF. Each scheme represents a separate era in the life of the jet. Above you can see the early bare metal scheme.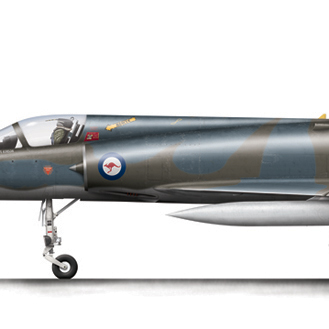 A3-15 in Camo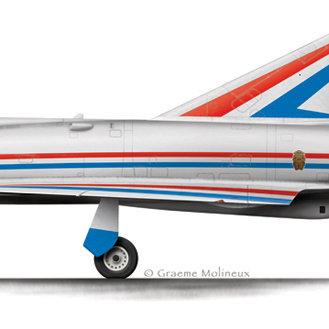 A3-15 in a RAAF Jubilee celebration scheme from 1981
She was dressed in fatigues for a few years before being paraded around in a red, white and blue scheme for the RAAF Diamond Jubilee displays.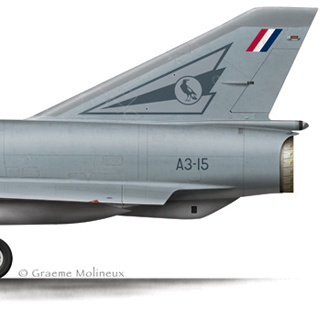 From the Jubilee scheme until retirement, A3-15 wore a contemporary Air Defence grey scheme.
After she left RAAF service, A3-15 went on to serve with the Pakistani Air Force. I am waiting for photos from Pakistan at the moment and, when they get here, I will offer that scheme too.

All sorts of new walkaround galleries
I went a bit crazy with the camera in the last couple of months, and you get the benefit.
New walkarounds added to Grubby Fingers website in the last week are:
Alvis Saracen APC
Austin Champ 4x4
Bell 47GC
Bell 206L
Centurion Tank x 2
Cessna Citation
Diamond Reo Prime Mover
Land Rovers x 3
Leopard Tanks x 3
Leyland Scammell Contractor Tank Transporter
Mack 8-tonne Wrecker
Mack M548 Wrecker
Oshkosh Fire Tender
Robinson R22
Robinson R44C
Sherman Tank
Simplex Helicopter Belly Tank
T-34-85 Tank
T-54 Tank
T-62 Tank
Tiger Moth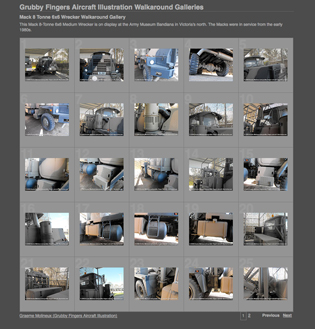 All new galleries will look ike this from now on
We've worked out a new way to present the walkaround galleries. I'm sure you'll agree it is an improvement on the old style. It is much easier on the eye and easier and faster to use.

November went missing.
Regular readers and subscribers might be wondering what happened to the November issue of The Grubby Truth. Well, I'm not telling.

The price of a standard Grubby Fingers A3+ print is now $29.95 AUD inc GST.