Tupolev TU-22/TU-22M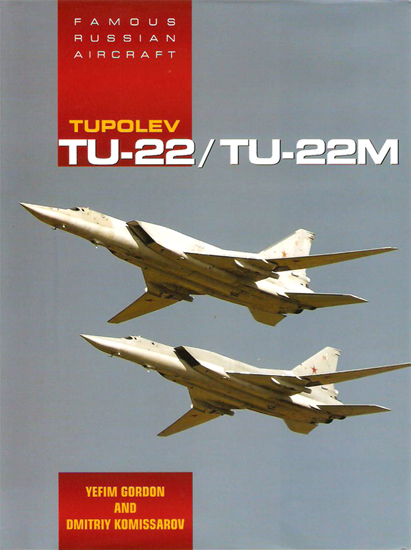 Famous Russian Aircraft
Tupolev
TU-22/TU-22M
Authors: Yefim Gordon and Dmitriy Komissarov
This is not just one book on one aircraft, rather its one book on two completely different aircraft. For the Tupolev Tu 22M (M for Misinformation, or so it seems) or Backfire to use its NATO code name, was an entirely different aircraft from the earlier Tu 22 (Blinder)! I used to think Willy Messerschmitt could sell refrigerators to Eskimos, considering his wartime dealings with the RLM, but I think he could have learnt a thing or two from Andrey N. Tupolev.
As with all good titles Soviet/Russian, it's from the Yefim Gordon 'stable' and co-authored by Dmitriy Komissarov. This latest title from Midland Counties is a beauty! Now, I'd expected plenty of technical data supported by a detailed history, which it does indeed provide, but it's in a very easily readable format. Even to making some sense of the somewhat deliberately secretive construction numbers and production batches which are explained fully, plus there's plenty of handy translations from Russian as and when needed. It's very well and extensively researched and written somewhat with a dry sense of humour on occasions. Anecdotal additions also make for entertaining and informative reading. And as for the proposal for three differing supersonic VIP transports (the Tu-344 project), that was highly entertaining!! There are some typographical and calculation errors (kilometres to miles sort of thing) not picked up during proof reading, but these are not of any great concern.
The book is almost A4 sized, hardback with dust jacket and 432 pages profusely illustrated with colour and b&w photos and colour profiles. It's a good one also for modellers, with extensive detail on all the nooks and crannies on both aircraft and excellent cockpit detail for both types. Colour schemes are somewhat limited, with exports mainly to Iraq and Libya providing a little variation, but the Tu-22M is such an aesthetically pleasing aircraft that the standard Soviet scheme suits it very well.
The appendices cover attrition and production lists for both types – the former alone makes for very interesting reading! Impressive, certainly! But, it's probably not everyone's cup of tea. I actually enjoyed reading this one, as opposed to reading to be informed or merely to review.
Without any doubt, this is a very good book for any Soviet/Russian aviation enthusiast at a very competitive price. It is available from Hyland's Bookshop in Melbourne www.hylandsbookshop.com.au or 03 9654 7448 for about $99.
Many thanks to Ms Orietta Colussi of DLS Australia for the review copy.
Review by John Baxter
---
Back to Aviation Books from Tuploev tu-22