Allied Wings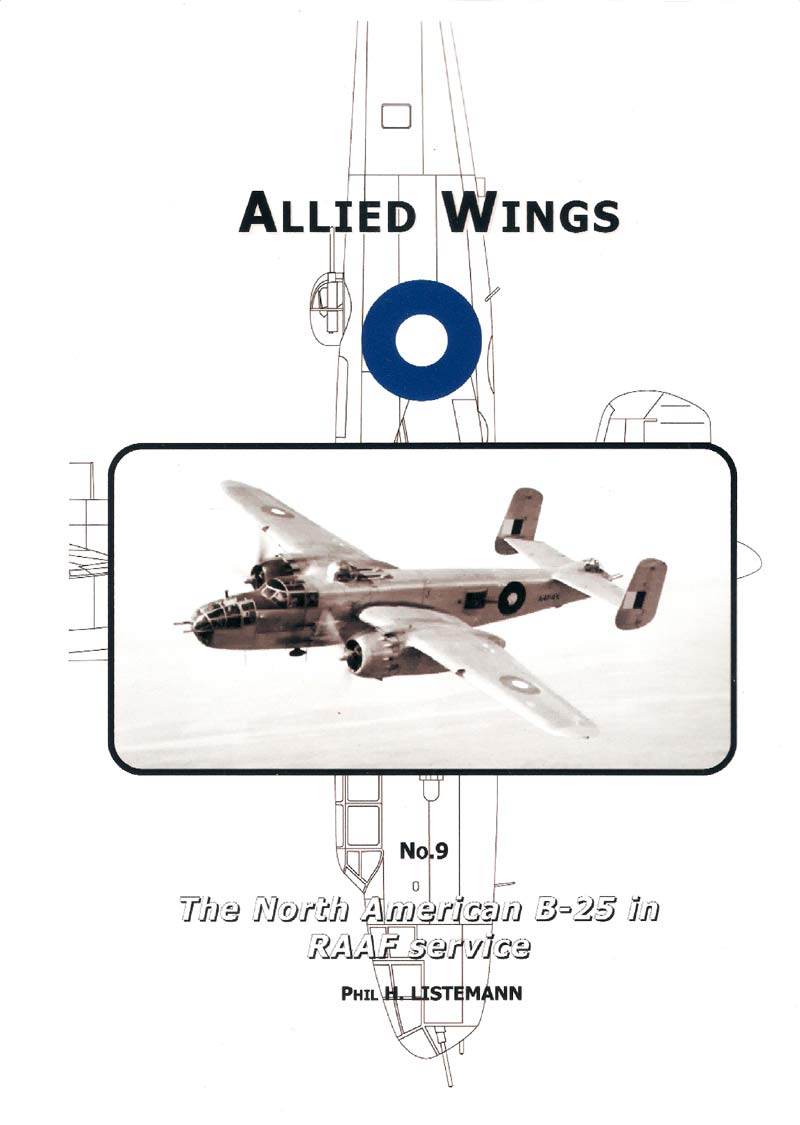 Allied Wings No 9
The North American B-25 in RAAF Service
Author: Phil H. Listemann
I've been eagerly awaiting this one and when it was given to me to review; I was strangely pleased to see it in an A4 size format; very different from the B5 size of previous titles. Apparently this is the way all future Allied Wings publications will appear. Now, the information within, in both text and tabular form is very good, as are the four colour profiles at the back. And along with the new and heavily reduced price tag, these are the best things going for Allied Wings No 9.
As its priced at just $20, it's a real bargain, but, lower production costs and thus savings passed onto the buyer are negated slightly by the use of non-coated paper and its resultant 'fuzziness' in mainly picture reproduction; and there are some minor problems with some lines of text going 'italicised'. Having shown some colleagues, the booklet, they didn't like the new plastic covering sheet at the front to help protect the stiff card cover and commented on the picture quality. To me, it's of no particular importance, but again it may not suit all purchasers. The important thing here is the information on just one RAAF squadron's use of this famous twin-engined bomber in the SWPA.
Now, I'm being picky. But when I review a book, I do have to tell it the way it is or at least the way I see it. These minor problems mentioned above might put some buyers off, but it's still a very important booklet covering a very interesting aircraft in RAAF service. Am I dissatisfied? – No, definitely not. Would I recommend this booklet? – Yes I would, but with the reservation that you should perhaps 'see before you buy'. On the other hand, a $20 investment in an unseen booklet is not a major risk. Worthwhile risk? Too right!
It's available from Platypus Publications (see ad this issue) and Hyland's Bookshop (9654 7448 or email neil@hylandsbookshop.com.au) . Many thanks to Ley Reynolds of Platypus Publications for the review copy.
John Baxter
---
Back to Aviation Books from Allied Wings