Your Headline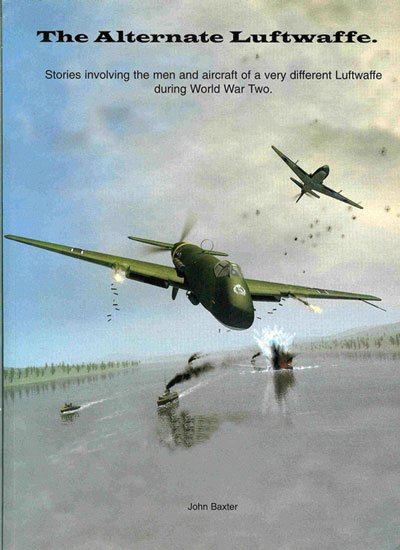 The Alternate Luftwaffe 1
Reviews
Author: John Baxter
"Good to see another private Australian publication on the price list. This time, however the titles concentrate on what-if Luftwaffe scenarios rather than the RAAF. Now, for those of you only into the factual side of aviation, don't switch off just yet. John's first title "The Alternate Luftwaffe" isn't the usual Japanese Manga type cartoon book you would normally associate with a title like this. Instead it's more of a good aviation companion volume to Macksey's "The Hitler Options". For those of you that haven't seen either book, this one explores what might have happened if a particular decision by the Luftwaffe high command had gone the other way. Only partially Luftwaffe '46, this book also explores what may have happened if some more realistic types had been employed during the war and what may have been the case later in 1945 with corresponding late war Allied types being brought into the fray. Chapters are written as short stories (either in the first or the third person) and titles include Bf 109 Wasser, Stukas Over Suez, Panzerjagerstaffel 92, Papagei, Flitzers in Action and Blohm und Voss Test Pilot. Fact and fiction are well mixed with realistic conclusions to the operational uses/losses/effectiveness of each aircraft/tactics included along with a factual summary to conclude each chapter. Obviously a product of much research and thought (as opposed to a wild imagination) this should appeal to anyone interested in the Luftwaffe, if only to illustrate just what may have been but thankfully wasn't."
Craig Chidley, Aeroworks, South Australia. aeroworks@iprimus.com.au
"John, I got your book today… WOW, it looks great!!."
Dan Johnson, Virginia, USA. Author of "Luftwaffe Project Aircraft" series and Luftwaffe '46 website. http://www.luft46.com
"Found it most enjoyable."
G. Stocker, Hants., England.
"I am most impressed and enjoyed it a lot."
G. Payne, Leeds, England.
"Great! Great!"
Phil Carstensen, Hyland's Bookshop, Melbourne, Australia.
"I received the books earlier this week. Just one word: fantastic. I hope more will follow."
Alain Liegeois, Belgium.
"I found it very interesting and enjoyable reading."
Eugene A Urick, Hampton, Va. USA.
"An interesting and thought provoking book. You have raised my enthusiasm to try and make a few of those models and even try and convert an ME 109 to a seaplane version."
Richard Thatcher, Hamilton, Victoria.
"Received my copy of "The Alternate Luftwaffe" today. It's fantastic. I am really looking forward to volume 2."
Tony Richards, California.
"What if? Any one who may have asked himself this question related to the developments of Luftwaffe prototypes during the Second World War will be delighted to discover twenty-two short stories by John Baxter. Machines that have remained unknown, as they did not reach the prototype or the drawing board project stage, are put into very realistic and detailed scenarios. The colour illustrations by Josha Hildwine are excellent and offer an accurate picture on what these machines look like, had they ever flown. There is no lack of surprises, like the French (Vichy!) squadrons formed with magnificent Focke Wulf Ta 152s. Another story describes Heinkel He 343A jet bombers based in Padua attacking Allied shipping in Naples harbour with Ruhrstahl/Kramer X-1 bombs in February 1945."
Aventures de l'Histoire, No. 5, June 2001. (French bimonthly history booklet.)
I purchased your alternate Luftwaffe book. It was an interesting read and I commend you on the depth of your research in this area. I loved your book and do hope you continue to produce more in the future."
Peter Irwin, Brisbane, Australia.
"Two very original books which evoke a parallel history where the Kriegsmarine put aircraft carriers into service as well as some aircraft which did not make it in our history. Each aircraft is featured in a short presentation of several pages in the form of the pilot's tale or monography. "The Alternate Luftwaffe" features a set of three superb colour graphic images while "Tragerflotten" comes with 24 profiles of German and Allied carrier aircraft. Far from being just SF stories, each chapter is a presentation of alternate events which is accompanied by (real history) notes. These notes are what set apart these books as they indicate the sources used by the author (something authors of documentary-type books should follow) but also place the story in its appropriate chronology. Note that "The Alternate Luftwaffe" features the Me 109W which the author invented but which has been announced by one of the Eastern European model manufacturers."
JC Carbonel, Maquettes Modeles Actualites no. 73. France, August 2001.
"Awesome."
Richard Wright, St Louis, Missouri.
---
Back to Aviation Books from Alternate Luftwaffe 1 book review