The Alternate Luftwaffe 3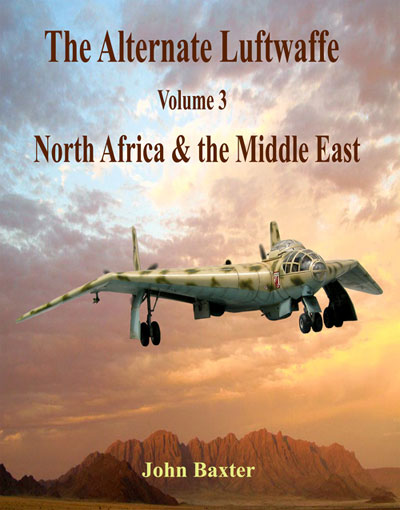 The Alternate Luftwaffe 3
Reviews
Author: John Baxter
I have to say straight away that I have all of John's previous books in the series as well as his "Tragerflotten" and Alternate RAAF & RAN Fleet Air Arm book, so you can see I'm a fan.
In the introduction John sets the scene for the sixteen chapters that follow. If you have any knowledge of the North African campaign of WWII (or indeed are following the current Libyan news story) then the place names will be more then familiar. Its John's take on how history might have unfolded that is different. At the end of each chapter there is a short historical footnote explaining the "real" history behind the story.
The aircraft in the stories are a mixture of those that actually saw service in the theatre, actual prototypes which given a change in fate could have seen service and others which were just projects such as the Henschel Hs 167 canard Schnellbomber and indeed one I assume comes from John's fertile imagination. The Arado Ar 239 featured on the cover looks remarkably like a pusher engined Arado E.555. Perhaps there is a nice project here for a conversion of the Revell kit.
Most, if not all, the aircraft mentioned in the text are accompanied by some nice illustrations of various models made, I'm told by Mike McEvoy, by a group of modellers largely from the Melbourne area.
Apart from the Luftwaffe of the title various other nationalities and their aircraft come into play within the context of the stories and I must admit one or two of these are, shall we say thought provoking. Apart from the RAAF's use of the "Brumby" the one that took my particular attention was the Merlin engined Desert Whirlwind. Now where have I put those spare Akoutir filters ?
All in all it's a very good read and thoroughly recommended both as a source of entertainment itself and as inspiration for some modelling.
The book is available in the UK from the Aviation and Military Book Centre at PO Box 4413, Atherstone, Warwickshire, CV9 9AS. www.aviationbookcentre.com. Price is £23.99 

Or from John direct at John Baxter at jjbaxter@techinfo.com.au Postal address - PO Box 1087, Fitzroy North, Victoria, 3068 Australia.
John has farther titles in the series planned as well as a volume on the Alternate RAAF in the South West Pacific theatre of operations. One I in particular am looking forward to.
Chris Edwards
---
Back to Aviation Books from Alternate Luftwaffe 3 book review