From Controversy to Cutting Edge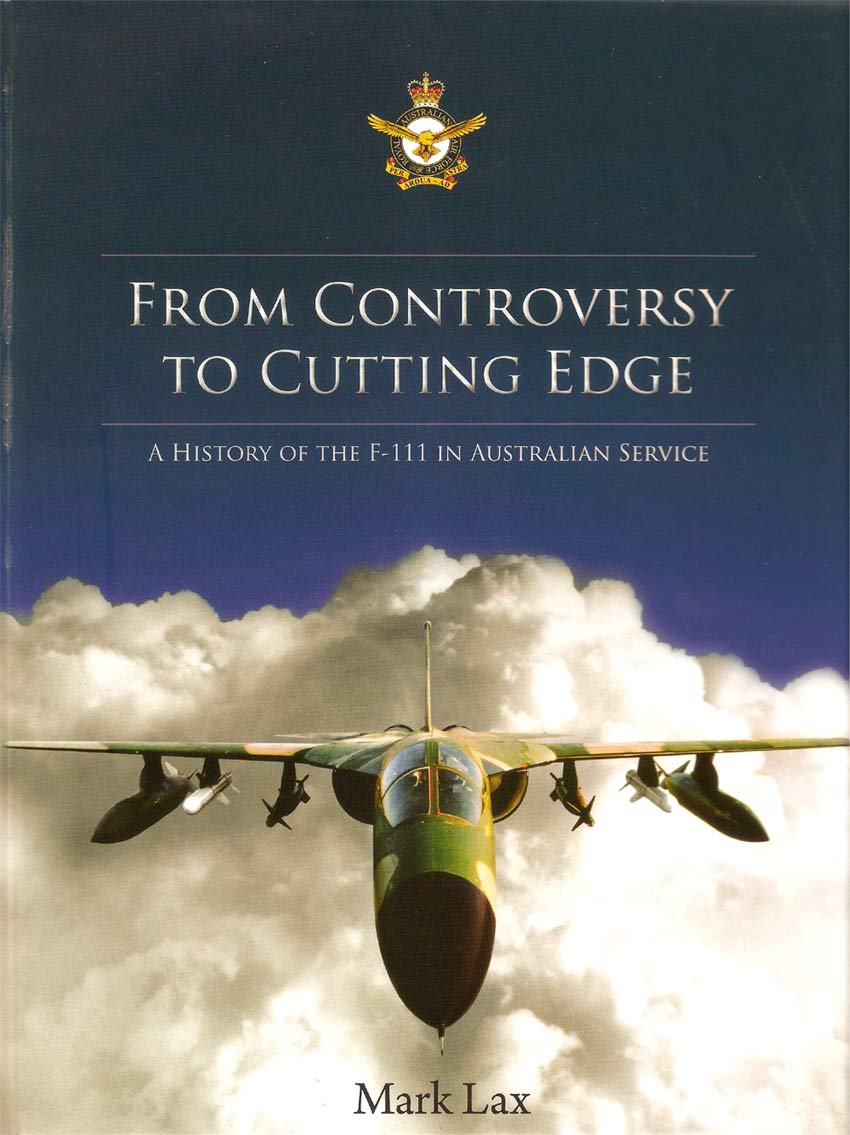 From Controversy to Cutting Edge
A history of the F-111 in Australian service
Author: Mark Lax
Imagine the Sopwith Camel in RAAF service as a frontline aircraft from 1917 to 1954, or the Supermarine Spitfire from late 1942 to 1979. It's had to conceive of that, isn't it? And yet the General Dynamics F-111 served as the RAAF's frontline strike aircraft for 37 years, the same time frame I've used with the two examples at the start of this paragraph. There aren't too many aircraft to compare but DC-3s, B-52s and Dassault Mirages are also contenders, although not all in Australian service.
This book, written by former senior RAAF officer Mark Lax and released after the F-111 was finally withdrawn from service, fills a vacant gap of RAAF aircraft types in print quite nicely. It's a well written and easily readable account of the F-111 from the political decisions taken to replace the BAC Canberra and carrying on through its service life, practically dragging the RAAF into a more sophisticated service responsible for more than dropping iron bombs!
Not since the Aerospace publications by Stuart Wilson of RAAF aircraft has there been anything of substance written on the RAAF's F-111s. So this is long overdue. It's a good read particularly on the political side of things. For instance, the General Dynamics design was not the preferred option but US Secretary of Defense Robert S. McNamara wanted the General Dynamics design to win the competition and so it did, despite the Boeing design winning every category of the tender process!
It contains 263 pages for the six extensive chapters with copious end notes for each one, 132 colour and black & white photos and eight superb colour side views and additional tail art by renowned aviation artist Juanita Franzi. My recommendation, well it's the only game in town, so you've got to have a copy if you're the least bit interested in the RAAF's F-111. It's very, very good without being spectacular. The amount of information is considerable. If something better comes along, well and good, but if it doesn't and you missed this one, well you've only have yourself to blame. And it's inexpensive for what it is! Do yourself a favour – get it! Now!
Available from Hylands Bookshop (03 9654 7448 or www.hylandsbookshop.com.au ) for just $44, it's great value for such a large hardback book with laminated pictorial covers.
John Baxter
---
Back to Aviation Books from From Controversy to Cutting Edge