Harrier Book Review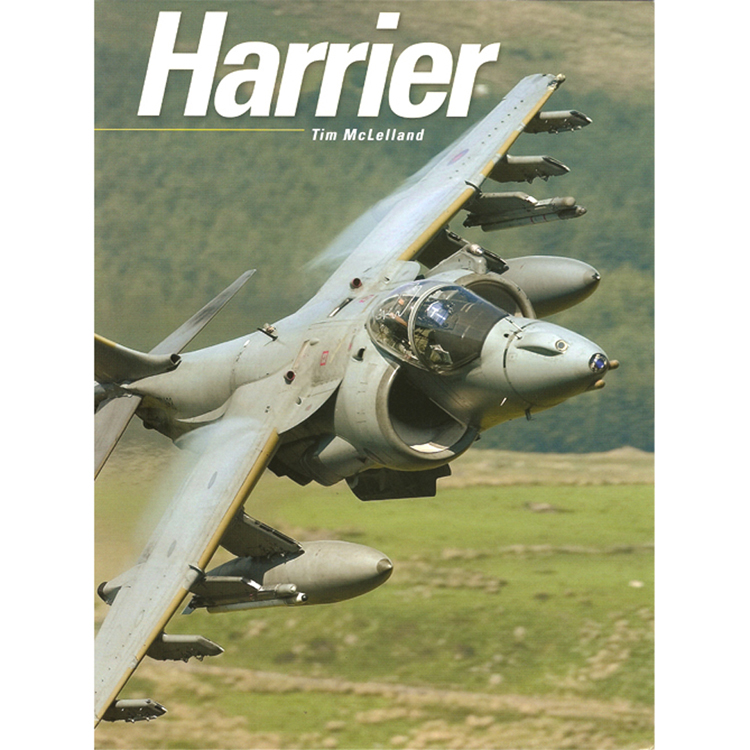 Harrier
Author: Tim McLelland
One of the most evocative and well known British warplanes of the jet era would have to be the BAe Harrier/Sea Harrier. The idea of Vertical Take-Off and Land outside the province of the helicopter has long been a dream of aviation tacticians and strategists for a number of practical reasons. From the Luftwaffe projects of the 1940s, the early French attempts with the Coleoptère, the US turbo-prop tail sitters such as the Convair XFY-1 along with several other flying (and often tethered) test beds, only one nation has been able to design, develop and introduce into long time service just such an aircraft. Yet it was only possible through American funding!
This book is the epitome of all that's gone before on the Hawker/Hawker Siddeley/BAe Harrier and Sea Harrier. Written by well known aviation author Tim McLelland and published by Classic Publications, this 326 page hardcover book is a true gem. Well, in truth which Classic Publication isn't? Unfortunately, the Harrier has recently been withdrawn from RAF and RN due to extensive defence cuts in the UK after forty years of service but the type soldiers on in the US Marine Corps and the air forces and navies of India, Italy, Spain and Thailand. This publication is a very fine record of a very remarkable aircraft.
Spawned from original ideas for a three seat, STOL, battlefield liaison aircraft, it starts with the project designated the Hawker P.1127 and follows that through to a proposal for a single seat, VTOL aircraft with a respectable operational capability. Once the now changed design was built, we progress to testing and development into service. I remember building the Airfix kit of the Hawker P.1127 back in 1965 – how different the type looks today when compared with that model! The P.1154 and Kestrel also feature as does the US version, the AV8A and the following generations. Its wartime service in the 1982 Falklands War, Iraq and Afghanistan is briefly documented and the anecdotal stories from various British and American pilots from that time and later are both impressive and entertaining. My own favourite remembrance was the saying I heard from a former RN pilot "With carrier ops, you had to land and stop, but with the Sea Harrier you could stop and land!" I also had the delight to see USMC AVA8s on board the USS Belleau Wood in 1979 and fervently wished to see the type in RAN or RAAF service. Sadly, that was not to be.
This book is profusely illustrated with over 400 b&w and colour photographs, numerous b&w line drawings covering engine, antennae, wing structure, outrigger wheel fairings, ejection seats, weaponry and external attachments, nozzle exhaust patterns and much, much more. There are 45 colour art works and this book is well worth acquiring for its illustrative content alone! Is it a good read? Well, it kept me up until three am in the morning! There have been plenty of books on the Harrier before, but this is the only one in my library and with very good reason – it's a beauty!
This is a great book for any aviation enthusiast at a competitive price. It is available from Hyland's Bookshop in Melbourne www.hylandsbookshop.com.au or 03 9654 7448 for about $90. Many thanks to Ms Orietta Colussi of DLS Australia Pty Ltd for the review copy.
John Baxter
---
Back to Aviation Books from Harrier Book Review