Romanian Fighter Colours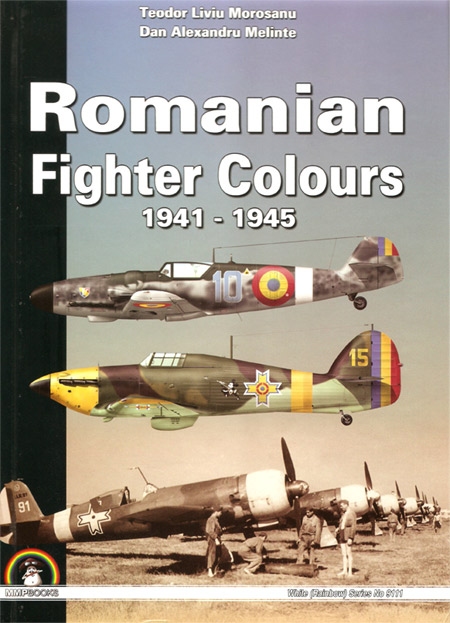 Romanian Fighter Colours
1941–1945
Authors: Liviu Morosanu and Dan Alexandru Melinte
This is one right out of the box and something I'd had my eye on from the moment I saw it in the Mushroom Model Publications catalogue some time ago. If you let this slip by you, you'll be very, very 'not happy Jan'.
This is one of the best publications to date by Mushroom, in my opinion. In the new White (Rainbow) series and numbered 9111, it's hard backed with laminated pictorial boards – the way Mushroom proposes to present future A4 sized books, I believe. Written by Teodor Liviu Morosanu and Dan Alexander Melinte, it's profusely illustrated and for the colour profiles alone, it's worth acquiring. Yes, I know that you know I'm a Mushroom fan. But seeing is believing and after this one, you'll be a believer.
The aircraft covered include PZL P.11 and P.24; Hawker Hurricane Mk 1; Heinkel He 112E; IAR 80/81; Messerschmitt Bf 109E & G; Messerschmitt Bf 110 and Focke-Wulf Fw 190A-8 & F-8; plus captured aircraft MiG-3 early type; Polikarpov I-16 Type 29;. Each chapter covers a specific aircraft with its operational history and then full colour camouflage and markings. The profiles are superb and are backed by some rare colour wartime photographs and lots of black & white photos. Four appendices cover Romanian air force unit structure; aviation ranks; table of colours with RLM codes, description, FS equivalent, Gunze Aqueous/Lifecolour/Xtracrylics equivalents; and St Michael's Cross examples along with sizes of markings and explanations and a bibliography to complete the book. Great stuff!
It's available from Platypus Publications for $57 plus p&p. Is it good value? Is the Pope a German? Yes – on both occasions. Recommendation – get a copy, quick as this won't last long. Many thanks to Ley Reynolds at Platypus Publications for the review copy.
John Baxter
---
Back to Aviation Books from Romanian Fighter Colours