The Last Blitz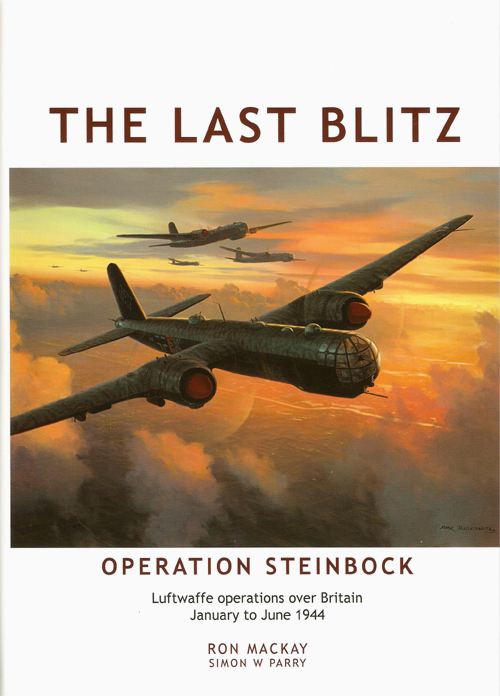 The Last Blitz
Operation Steinbock
Luftwaffe Operations over Britain January to June 1944
Authors: Ron Mackay and Simon W Parry
So much has been written about the London Blitz of 1940. Much less has been printed regarding the 'Last Blitz' of 1944 and this title fills in that gap quite nicely. Now, there's no Index nor Bibliography, but this book is a 'no holds barred' chronology from the first Blitz of 1940 through the Baedeker (historic towns) raids in 1942 to Operation Steinbock, the retaliatory raids demanded by Hitler for the damage caused to German cities by Bomber Command.
Written by Ron McKay and edited by Simon Parry, this Red Kite publication fills a gap, and fills it so well. Akin to Christopher Shores style ('Bloody Shambles' trilogy and more), 'The Last Blitz' is a fine documentary starting with the end of the 1940 Blitz. The research is extensive and the accompanying photographs are placed within the text at the appropriate place rather than in 8 page blocks in the centre of the book. I can't say it's profusely illustrated, but it just falls short of that with its 163 black and white photos within this 430 page hard cover book. Most of these are of damaged or destroyed aircraft and crew photos with their captions telling clearly the horror of (air) war.
I find it difficult to say it's an enjoyable read. It is objective in its telling of a time of war but it does provide that information neglected for so long. It's very, very good and I recommend it highly for the Luftwaffe enthusiast or air historian. The aircraft concerned, identified by their Staffel//Geschwader codes, and the fates of their crew members are all provided, along with detailed analysis of each raid and the RAF combat and interrogation reports. The inclusion of a comparison of dwindling Luftwaffe strength in western Europe to the growing Bomber Command strength, plus an unclear German strategy, makes for interesting divergence of purposes.
It's a welcome addition to my library and I have been impressed with its detail. Printed on quality stock, I was surprised at the price, expecting higher. With its evocative artwork cover of Heinkel He 177s over Holland by Mark Postlethwaite, it's a great book for any aviation military enthusiast at a very competitive price. It is available from Hyland's Bookshop in Melbourne www.hylandsbookshop.com.au or 03 9654 7448 for about $60.
Many thanks to Ms Orietta Colussi of DLS Australia Pty Ltd for the review copy.
John Baxter
---
Back to Aviation Books from The Last Blitz