The Luftwaffe book review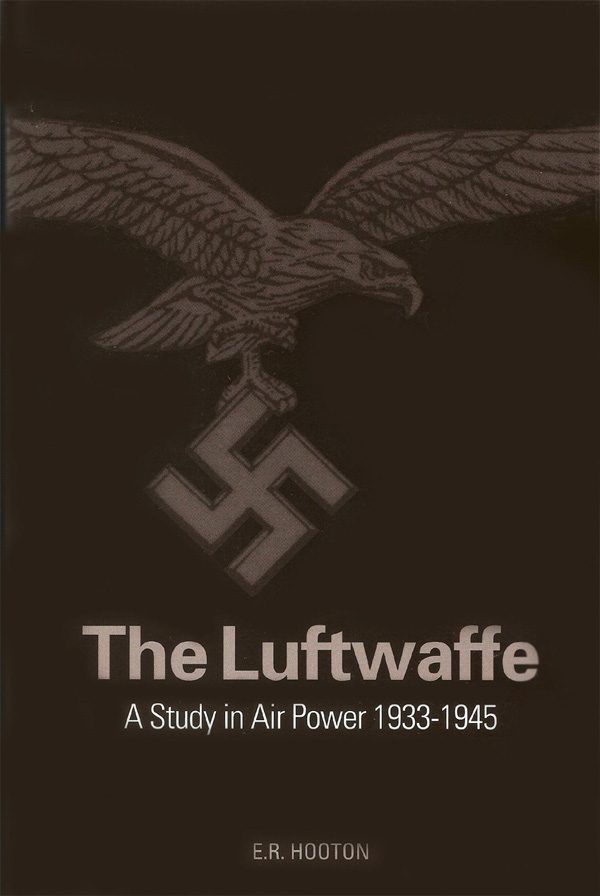 the Luftwaffe
A study in air power
Author: E.R. Hooton
A book's cover should be interesting enough to say to you "pick me up". The unprepossessing cover of this book doesn't say that unfortunately – and it's an error because this is a brilliant, in-depth study of the Luftwaffe, probably the best single volume I've encountered in forty years.
So, you can't always judge a book by its cover! Now, E. R. (Ted) Hooton has written a number of highly regarded books on the Luftwaffe ('Phoenix Triumphant' and 'Eagle In Flames' being two, as well as the impressive but discontinued after two editions series 'Luftwaffe at War') but this one surpasses the others, in my opinion. It's more than just a detailed history of the Luftwaffe from 1933 to its demise in 1945. It's an extensive analysis of the campaigns with new information made available to researchers from the former Soviet archives. It covers the leadership aspect, personalities and their internal conflicts, Göring's bombast, indifference and leadership issues. The Spanish Civil War and the Condor Legion, early aerial strikes in Poland, Norway and the assault in the west, the failure against England, Mediterranean misadventures, Barbarossa are broad segments covered. Then there is the eventual wearing down of widely distributed assets due to poor information, poor management from the upper echelons and poor planning along with all the misguided, short sighted decisions which were just the tip of the iceberg. And it's all here in an informative and easily readable style. Impressive and yet an inexpensive publication from guess who? Classic!
It's a 302 page book with just 16 pages of black and white photos, extensive chapter end notes and sources and bibliography to round it out. Available from Hyland's Bookshop in Melbourne (9654 7448 or www.hylandsbookshop.com.au) for about $50. If you want just one book providing a scholarly and extensively researched book on the Luftwaffe, then this is the one. I have no hesitation in highly recommending this book for both the Luftwaffe enthusiast and the general aviation buff. It's a vital addition to the library of any World War Two history or aviation enthusiast even if you have some or many books on the Luftwaffe, and it is money well spent. Many thanks to Orietta Colussi of DLS Australia Pty Ltd for the review copy.
John Baxter
---
Back to Aviation Books from the Luftwaffe