The Setting of the Rising Sun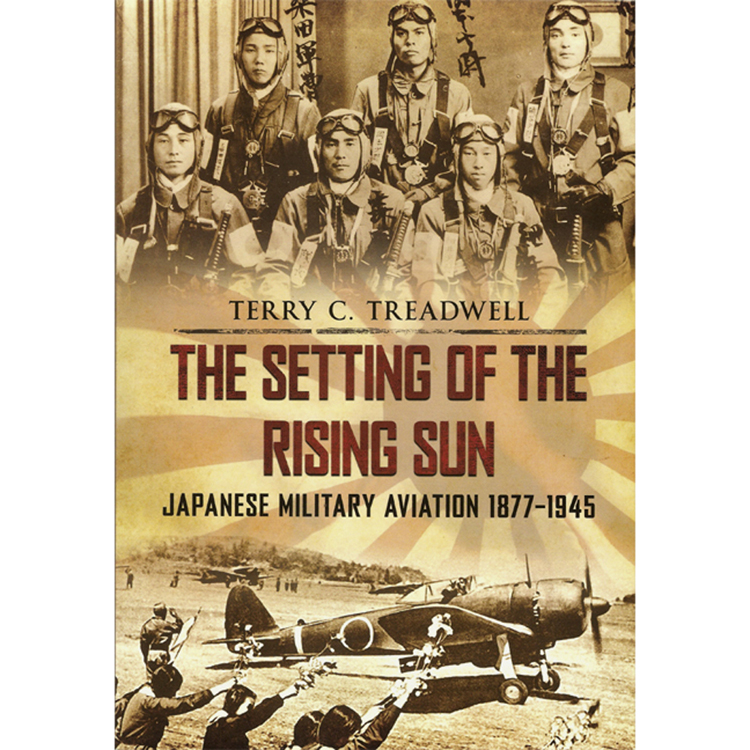 The Setting of the Rising Sun
Japanese military aviation 1877–1945
Author: Terry C. Treadwell
There's a staggering amount of information on the early history of military aviation in Japan contained within this B5 sized book of 182 pages with its 112 black and white photographs. Written by aviation author Terry C. Treadwell and published by Amberley Publishing in the UK, I found it a very interesting read, especially on the early aircraft types utilised before and during the conflict in China and leading up to Japanese participation in World War Two.
Now, that said, there are some drawbacks. The specification tables of the types mentioned are well laid out but could have benefitted with the three-view drawings being applied to all types mentioned, particularly the lesser known types. There are 95 specification tables but there are only thirteen 3-view drawings accompanying these and they have been taken from different sources, with some being of indifferent quality. I guess it's difficult in a book of this size to include them all, but certainly some for the lesser well known aircraft would have been a boon for anyone not familiar with them.
There are five chapters with an overview of the period and in-depth description of the aircraft associated with that time frame in each. An appendix of Allied code names applied during wartime, and a short bibliography complete the book. One other confusing point for me was that in the paragraphs about the Battle of the Coral Sea, it seems that concerning the two USN aircraft carriers involved, USS Lexington and Yorktown, "neither ship was sunk and only sustained relatively minor damage"! Strange information as Lexington was sunk and Yorktown badly damaged and only just being repaired at Pearl Harbour in time to take part at Midway!
Overall, it's a vital reference on Japanese military aviation history and in particular of that during the early days. It has a considerable amount of data, reads easily and yet I find this book one hard to give an unqualified recommendation. Perhaps I'm too close to the subject material and would be somewhat biased? Nevertheless, if you have a gap in your aviation library on Japanese aircraft up until 1945, then this fits the bill quite nicely.
Available from Hylands Bookshop in Melbourne (03 9654 7448 and www.hylandsbookshop.com.au) for about $45. My thanks to Mr Clift Davidson of Woodslane Pty Ltd for the review copy.
John Baxter
---
Back to Aviation Books from The Setting of the Rising Sun