Train Drawings
This page was last updated 21 January 2013
Train drawings, tram drawings, bus drawings, any kind of public transport profiles will be included here. All these profiles are created on the computer from scratch and are full-blown digital renders, all highly detailed and very accurate.
Print Sales
Prints are available for purchase directly from the Grubby Fingers webshop.
---
Train Drawings Index:
• W-Class Tram Drawings
---
Melbourne W-Class Tram
The W-Class is the iconic Melbourne tram. No visit to the city is complete without a ride on one of these old rattlers. They are still in service on a couple of routes and there is a free city-loop service that you can hop on and off of at will. There is also the Colonial Tramcar Restaurant Co. offering 5-star lunch and dinner "tours" in a fleet of modified W-Class trams.

All these profile prints are available at the Grubby Fingers webshop.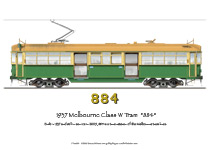 Class W Tram 884 2010
Buy this print
---
Back to Profile Drawings page from Train Drawings