GRUBBY FINGERS MUSEUM GUIDE

Australian Aviation, Military,
Transport and Maritime Museums
---
Australian Aviation Museum
Starkie Road, Bankstown Airport
Bankstown, New South Wales
The Australian Aviation Museum is located at Bankstown Airport, south-west of Sydney. It consists of a large hangar space filled with aircraft and aeronautical displays and an even larger open-air display area.
There is a significant range of aircraft and aviation related displays. The displays cover both civil and military subjects.
Bankstown has been a major centre for aircraft manufacturing in Australia. de Havilland had a facility there where Drovers, Tiger Moths, Mosquitos and Vampires were produced.
Aircraft on display there include:
Beechcraft "Butterfly" Bonanza
Clancy Skybaby
Corby Starlet
RAAF Dassault Mirage A3-44
de Havilland Australia Drover
de Havilland Heron
Douglas DC-3
English Electric Canberra
Fawcett 120
Feast Circle CW
Harley Newman Gyrocopter
Hawker-Siddeley HS-748
Luton Major
Mig 15
NorthAmerican A-26 Invader
Scottish Aviation Twin Pioneer
SE5A replica
Sikorsky S-55
Transavia Airtruk
Volmer Sportsman Amphibian
Wheeler Scout
---
Image Gallery
To see a photo gallery of pics I have taken on a 2014 visit, click on the picture below. There are also full walkaround galleries of the Airtruck, Drover, HS 748 and S-55 in the walkaround section of my site.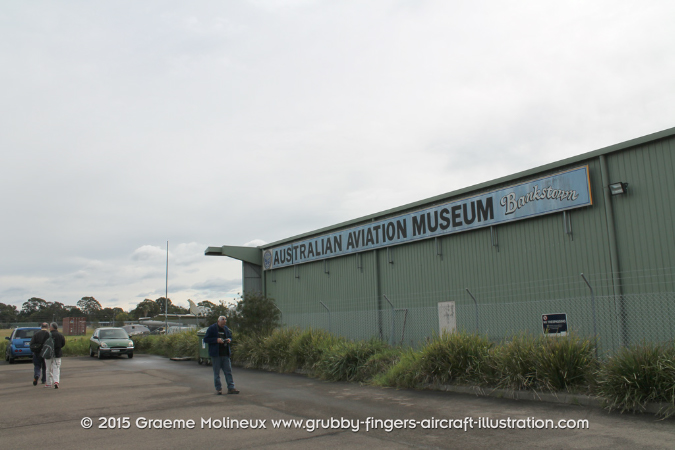 ---
Back to Grubby Fingers Museum Guide
This page was last updated 14 February 2015
---