Talk to me!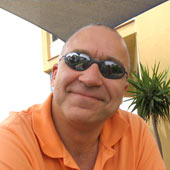 Hi Guys,

Thanks so much for dropping by.

As you've probably picked up, this site is all about my passion for aviation and aircraft illustration. Hopefully you will find something that interests you here and maybe even something you'll find useful. If not, thanks for coming anyway!

I have included a contact form below so you can ask me questions about anything on the site, give me a raspberry when you find the deliberate mistakes (I'm just trying to keep you on your toes!), or praise me up about what a wonderful job I am doing and how your world is complete now that you have Grubby Fingers!

You may notice there is no direct contact email address on this site. That is because putting an email address on a website is an open invitation for evil SpamBots to send me buckets of Yuck. By using a Contact Form, rather than an email address, it blocks out the SpamBots and also puts your details into my email whitelist so we can webmail freely once you are here. This is also why you will get an auto-response email straight after sending me the Contact form. It means your contact has been received and I will be sending my personal response shortly.

I won't pass your details on to any third party, and you can take yourself off my list anytime you like. There is an opt-out option at the bottom of all my webmails.

Enjoy the site, and please pop back from time to time as this site has turned into a living, breathing beast that is constantly changing.

See you soon,
Graeme.