Aviation Gifts and Aircraft Prints
This page was last updated 18 January 2013
Grubby Fingers Limited Edition prints are detailed, accurate, high quality and long lasting. The attention to detail in the illustrations and the quality of the print materials mean you will have an image of aviation history to enjoy for years to come. They make outstanding and appreciated aviation gifts for enthusiasts and pilots. Grubby Fingers aircraft prints are printed in-house at Grubby Fingers. Each print is checked for any blemishes or printing faults and then numbered and signed. By operating this way I am able to keep costs down and maintain quality.
The Artwork
Each Grubby Fingers profile is meticulously researched. Many reference images are collected and, where feasible, I study an actual prototype. I talk to aviation historians, manufacturers, operators and relevant organizations. All gathered information is compiled and compared against written references to verify details. Many hours of work are done before I draw the first line and I check each part of the drawing against reference photos as I progress.
The illustrations are high resolution and very detailed. Each illustration is a result of hundreds of hours of painstaking research and attention to minute details. Here are saome close ups that show the level of detail you can expect in your print. Click on each image to get a larger version.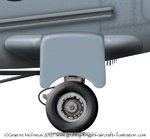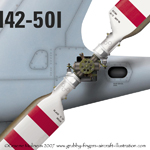 The Printer
The prints are run on a professional high-end Canon digital photo imager, the type used for museum and gallery grade fine art reproduction.
The Paper
I use MOAB Lasal Photo Luster 270, manufactured in the USA, for all my prints. I selected it specifically to complement the technical nature of my profiles. It has a nice heavy 270 gsm weight and a light surface sheen. It's rated for archival use and it is acid free. When properly handled and framed, the manufacturer assures me it will last for 100 years or more.
The Inks
All Grubby Fingers prints are produced on a Canon professional grade inkjet printer using pigment based Lucia inks. These inks have wonderfully strong colours and give excellent colour depth. Again, with proper handling and framing, the inks have a 100 year life, according to the manufacturer.
Packing and Despatch
Each print is supplied in its own plastic sleeve with an information sheet outlining use and care and framing requirements. They are shipped rolled in mailing tubes via standard Australia Post surface mail, unless otherwise requested. Shipping costs will vary depending on priority and distance. The paper stock has excellent memory and it springs back to being flat very quickly once it is out of the tube.
Despatch will usually occur within14 days of a print being ordered, so delivery should be within 21 days.
Framing and Care of your Grubby Fingers Print
As with any artwork, quality framing is essential to the longevity of your print. A proper acid-free matt surround should be used to keep the glass out of contact with the surface of the print. The frame should also be sealed to prevent the ingress of moisture and dust. I strongly suggest you get your print professionally framed so you can get maximum enjoyment out of it for years to come.
If a clip-frame or similar is used, where the glass sits in direct contact with the print, moisture will gather and significantly reduce the appearance and life of your print. For this reason, such framing will void any warranty on the print.
Your Satisfaction
Your complete satisfaction is most important to me. If you are dissatisfied with your Grubby Fingers print for any reason, return it to me for a full refund, including postage. Likewise, if your print is damaged in shipping, either return the print or send me a photo showing the damage and the print will be replaced at no charge.
Purchase
Grubby Fingers prints are available through this website at the
Grubby Fingers Shop.
PayPal, credit card and direct electronic transfers are all accepted.