GRUBBY FINGERS MUSEUM GUIDE

T3 Beck Museum Mareeba URL: http://grubby-fingers-aircraft-illustration/Beck_Museum_Mareeba.html Filename: Beck_Museum_Mareeba Page Title: Beck Museum Mareeba Keywords: beck museum, beck collection, mareeba air museum, beck military museum Description: Beck Museum Mareeba
Aviation, Military, Transport and
Maritime Museums in Australia
---
Beck Museum(CLOSED PERMANENTLY)
Kennedy Highway
Mareeba, Queensland
The Beck Collection is one of the more significant private collections of aircraft and militaria in Australia.
The Beck Museum is located on the Kennedy Highway, just south of Mareeba in the tablelands inland from Cairns.
The public viewing area consists of a large display room full of militaria, smaller items and scale models, and a large WWII timber-framed hangar (an exhibit in itself!) which houses most of the full-size items.
The aircraft Sid has on display include: Ikara missile, SP-2H Neptune A89-277, DH-82 Tiger Moth VH-BXF, CAC Wackett, GAF Canberra A84-210, V-1 flying bomb replica, Bristol Sycamore XN450, Sea Venoms, Bell Airocobra "Erminie", C-47 A65-73, DH Vampire, a Wildcat replica from a movie and Beech 23 Sundowner.
There are quite a few vehicles on display as well, including an operating Vietnam-Veteran Centurion MBT. Other vehicles include various soft-skinned trucks, an Alvis Saracen, various pieces of artillery and also several aero engines. There is also a Matilda tank guarding the gate.
The Beck Collection is a must-see if you are travelling through Tropical North Queensland.
---
Image Gallery
To see a photo gallery of pics I have taken on a couple of visits, click on the picture below. There are also full walkaround galleries of the Canberra, Neptune, Sycamore, Airacobra and Stuart in the walkaround section of my site.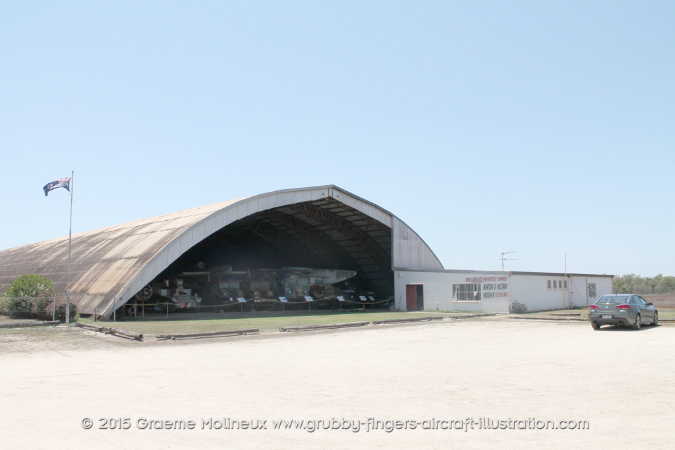 ---
Back to Grubby Fingers Museum Guide
This page was last updated 15 February 2015
---