GRUBBY FINGERS MUSEUM GUIDE
Aviation, Military, Transport and
Maritime Museums outside Australia
---
FLYING LEATHERNECK MUSEUM
MCAB Miramar
San Diego, California U.S.A.
In late 2013 I travelled to the US and managed to visit a few museums. One of them was the Flying Leatherneck Museum in San Diego. It's located on the perimeter of the Marine Corps Air Base Miramar and it has it's own access so public entry is not a problem. (The Thunderbirds Museum at Los Angeles is located within the air base and you can only see it if you are a serving member of the US armed forces. No public entry except for pre-organised, escorted tours. A foreigner has no chance whatever.)
The Flying Leatherneck Museum comprises a large outdoor display area with around 30 airframes and an inside display of photos and exhibits highlighting many aspects of U.S. Marines air operations. The museum is very well presented and the exhibits are well thought out. The crew running the museum were, without exception, very helpful, informative and friendly.
The range of aircraft on display is quite surprising with everything from trainers through to helicopters. As with any outdoor exhibit, and to be expected, the aircraft are suffering from the elements and all are in need of a coat of paint. Some are carrying obvious damage as well, but it's still a great opportunity to se these beasts in the flesh and get up nice and close.
---
Image Gallery
To see a photo gallery of the pics I took while I was there, click on the picture below. There are also full walkaround galleries of nearly ALL of the aircraft in the walkaround section of my site.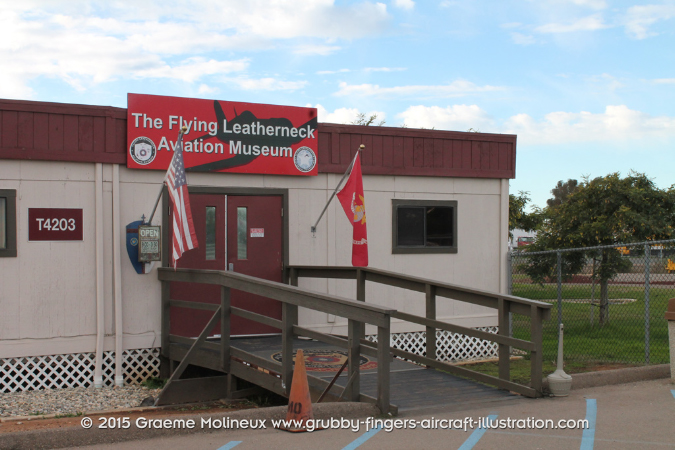 ---
Back to Grubby Fingers Museum Guide
This page was last updated 16 February 2015
---