GRUBBY FINGERS MUSEUM GUIDE

Aviation, Military, Transport and
Maritime Museums in Australia
---
NATIONAL VIETNAM VETERANS MUSEUM
25 Veterans Drive
Phillip Island, Victoria
The National Vietnam Veterans Museum is located on Phillip Island, shortly after the San Remo bridge.
It is a touching and emotive display telling of all aspects of Australia's involvement in Vietnam, not just the combat.
Of particular interest is the three-dimensional AV presentation where a projected narrator appears to wander around and behind a collection of military while he tells the story of Australia's Vietnam.
The artefacts on display range from hand weapons to a Centurion tank, and a Bell 47 up to a Grumman Tracker. There is a Bell AH-1 attack helicopter on show, too, one of only a couple in Australia.
There are galleries of paintings and, when I was there, a non-permanent photography exhibit. The gallery space where this was is changed fairly regularly.
The displays are well presented, thought provoking and, above all, respectful of those who served in that conflict. The people I spoke to who run the museum were very informative and helpful.
---
Image Gallery
To see an overview of the exhibits at The National Vietnam Veterans Museum, click on the image below and you'll be taken to a gallery of my own photos taken at the museum. You'll also find full walk around galleries of the Bell 47, AH-1 Cobra, Bell UH-1H, Westland Wessex, Grumman Tracker, Centurion tank and M151 Mutt in the walkarounds section of this site.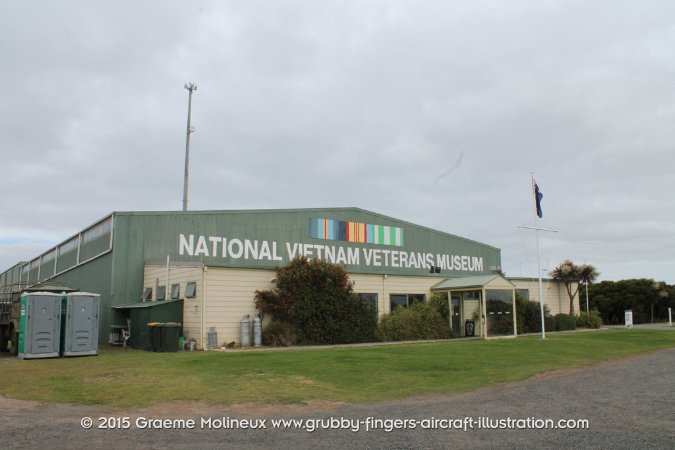 ---
Back to Grubby Fingers Museum Guide
This page was last updated 16 February 2015
---