GRUBBY FINGERS MUSEUM GUIDE

Aviation, Military, Transport and
Maritime Museums in Australia
---
ARMY MUSEUM BANDIANA
Gaza Ridge Barracks
South Bandiana, VIC 3694
The Army Museum Bandiana is located on the outskirts of Wodonga in Victoria's north. It's a 3.5–4 hour drive from Melbourne. It is within the Gaza Barracks complex and entry can be restricted sometimes so best to check before you go. As it's an active base, you'll need photo ID for entry at any time.
The museum houses a huge collection of vehicles, weapons and associated military. It commemorates the service of several individual Army corps. Many of these Corps had their own museums and these have now been amalgamated into the one venue. This gives a display covering a broad range of Army activity.
From the museum's own website:
"Army Museum Bandiana collects, preserves and exhibits the history of various corps of the Australian Army:
• Royal Australian Army Chaplains Department
• Royal Australian Corps of Transport
• Royal Australian Army Medical Corps
• Royal Australian Army Dental Corps
• Royal Australian Army Ordnance Corps
• Royal Australian Electrical & Mechanical Engineers
• Australian Army Catering Corps
• Australian Army Psychology Corps
• Royal Australian Army Nursing Corps
• 2/23rd Australian Infantry Battalion
• Australian Women's Army Service
• Australian Service Nurses
• Army Apprentices
• United Nations, and
• The John Laffin Collection"
I visited most recently in April, 2014. I've been there once before and I've taken many, many photos of the vehicles on display. Most of my photos are available in the various walk around sections of this website.
---
Image Gallery
To see an overview of the exhibits at bandiana, click on the image below and you'll be taken to a gallery of my own photos taken at the museum.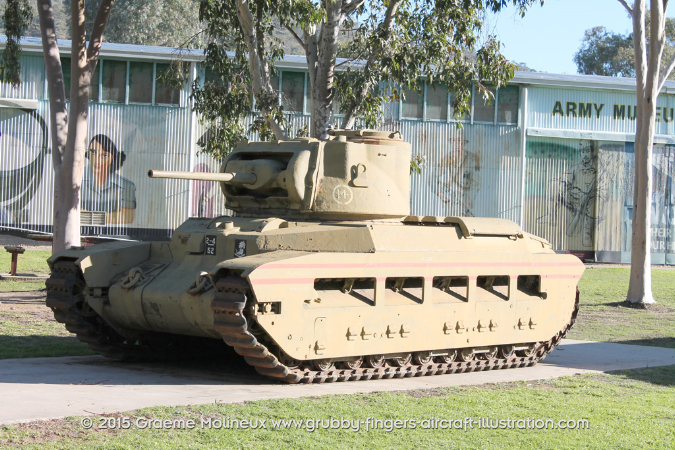 ---
Back to Grubby Fingers Museum Guide
This page was last updated 15 February 2015
---