GRUBBY FINGERS MUSEUM GUIDE

Aviation, Military, Transport and
Maritime Museums in Australia
---
RAAF MUSEUM POINT COOK
RAAF Base Williams
Point Cook Road
Point Cook, Victoria
Ph: (03) 8348 6040
Fax: (03) 8348 6692
E: RAAF.MuseumInfo@defence.gov.au
W: www.airforce.gov.au/raafmuseum
Point Cook is recognised as the physical and spiritual home of the Royal Australian Air Force. It also one of the oldest military air bases that has been in continuous use. It may even be the oldest, depending on the definitions used.
The first military flight took place there in March, 1914.
Considering its history, it is an appropriate place for the RAAF to have its primary museum and research facility.
The museum is laid out in several historic hangars and a large display area for themed displays and exhibits.
Apart from having an extensive display of aircraft, they also restore significant airframes and maintain a fleet of airworthy aircraft as well. The site and some of the buildings have been Heritage Listed by the National Trust.
Aircraft on static display at Point Cook include:
• Aermacchi MB 326H
• Avro 504K
• Avro Cadet
• Bell UH-1B Iroquois
• Bell UH-1H Iroquois
• Bristol Bloodhound
• Bristol Freighter
• CAC Boomerang
• CAC Sabre
• CAC Winjeel
• Cessna Bird Dog
• Consolidated Catalina
• Dassault Mirage III
• de Havilland Tiger Moth
• de Havilland Vampire F.30
• de Havilland Vampire T Mk 35
• DH 84 Dragon
• Douglas Boston
• GAF Canberra
• GAF Jindivik
• GAF Pika
• General Dynamics F-111
• Hawker Demon
• Maurice Farman Shorthorn
• McDonnell Douglas F-4E Phantom
• PAC CT-4A
• Sikorsky Dragonfly
• SE5a
• Supermarine Walrus

These are all in outstanding restored condition. There are also some airframes on outdoor display, yet to be restored:
• Lockheed C-130A Hercules A97-214
• Lockheed C-130E Hercules A97-160
• Hawker Siddeley HS748 A10-601
• Bristol Freighter A81-1
• Bristol Bloodhound missile and launcher

One thing well worth catching is the flying displays that are held each Tuesday, Thursday and Sunday at 1pm, weather permitting. At these displays the museum takes up one of its airworthy aircraft, puts on a display and then the pilot jumps out, explains the aircraft and answers any questions. Aircraft that are flown include: CAC Winjeel, DH Tiger Moth, Sopwth Pup, CT4A and even their Mustang!
---
Image Gallery
To see a photo gallery of pics I have taken on various visits, click on the picture below.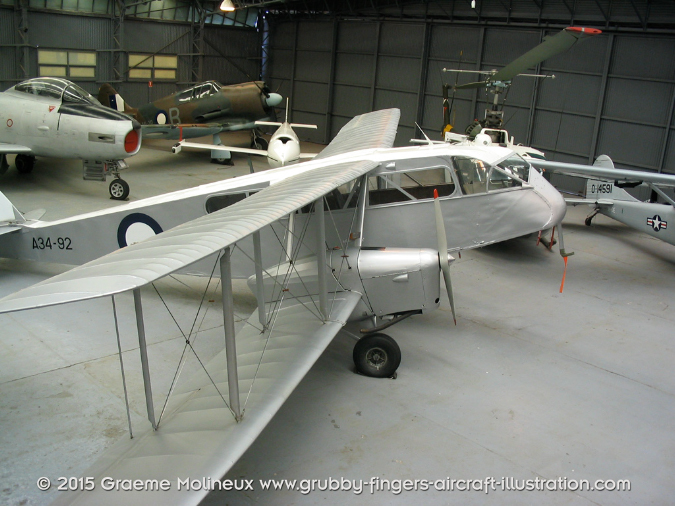 ---
Back to Grubby Fingers Museum Guide
This page was last updated 16 February 2015
---