GRUBBY FINGERS MUSEUM GUIDE

Aviation, Military, Transport
and Maritime Museums in Australia
---
RAN FLEET AIR ARM MUSEUM
HMAS Albatross
Albatross Road
Nowra, New South Wales
Museum Ph: (02) 4424 1920
Museum Fax: (02) 4424 1999
Shop Ph: (02) 4424 2179
W: www.navy.gov.au/fleet-air-arm-museum
Located at the Royal Australian Naval Air Station Albatross, it is the RAN's official Air Museum. Some years ago it underwent a major redevelopment that saw the facilities expanded and improved. One of the big improvements is a new two-storey display area.
The museum is one of the premium collections and displays in Australia. The exhibits are beautifully presented and in excellent condition. The information boards throughout are informative. The museum is airy and light and a very pleasant environment in which to view this outstanding collection.
The collection itself is most comprehensive with all major types operated by the Royal Australian Navy Fleet Air Arm represented, to the extent that an A-4 was sources from the US as no original RAN birds could be located.
I am a little curious about the inclusion of a Polish-built MiG-15 trainer in a prominent place in the display. I'm quite sure the RAN never operated the type and I don't recall any Navy aircraft encountering MiG-15s during the Korean conflict.
Coincidentally, immediately after writing the preceding paragraph, I picked up a copy of Australian Road and Track magazine dated March 1993 and inside was an article with the same MiG racing against a Nissan GT-R down the Nowra airstrip! I guess it has been living there for a while.
Along with the actual aircraft on display are a range of models and equipment display detailing other activities of the Fleet Air Arm.
The Fleet Air Arm Museum's extensive range of display aircraft includes:
• Aermacchi MB326H
• Bell 47G Sioux
• Bell UH-1B Iroquois
• Bristol Sycamore HR51
• CAC Winjeel
• deHavilland Sea Vampire T22
• deHavilland Sea Venom FAW53
• Douglas C-47B
• Douglas TA-4B Skyhawk
• Douglas A-4G Skyhawk
• Fairey Firefly Mk.5
• Fairey Gannet T.5
• GAF Jindivik Mk.3B
• Grunau Baby Glider
• Grumman S-2E/S-2G Tracker
• Hawker Sea Fury
• Hargrave 1894 Glider
• Mig-15 (LIM-2)
• Sopwith Pup
• Westland Sea King • Westland Scout
• Westland Wessex

---
Image Gallery
To see an overview of the exhibits at Nowra, click on the image below and you'll be taken to a gallery of my own photos taken at the museum. Additionally, I have comprehensive walkaround galleries of most of the aircraft at Nowra in the walkaround section of the site.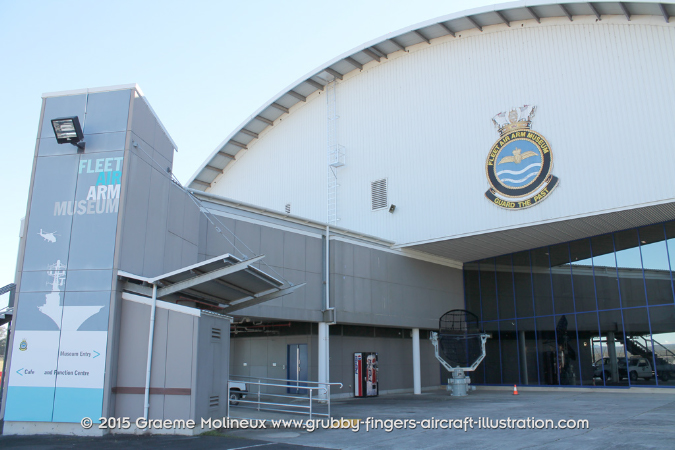 ---
Back to Grubby Fingers Museum Guide
This page was last updated 15 January 2015
---