GRUBBY FINGERS MUSEUM GUIDE

Aviation, Military, Transport and
Maritime Museums outside Australia
---
SINGAPORE AIR FORCE MUSEUM
400 Airport Road
Paya Lebar Airbase
Singapore
The Republic of Singapore has maintained a strong defence force since the end of the Second World War. It is constantly on alert for threats from its larger neighbours. It also maintains a training presence in Australia and conducts many war games with the ADF.
The Museum reflects this with the range of aircraft on display and the fact that it is situated on the edge of the main RSAF air base. During my visit there military were jets and turboprops taking off and landing constantly and I saw F-15s, F-16s, F-5s and Hercules in the circuit and overhead. Even though the museum borders the airbase, you can't even get a glimpse of the flight line. All lines of sight have been blocked with screens of some sort.
The Museum has an outdoor display area with around 15 helicopters and fixed-wing airframes on display. Some of these are posed dramatically in flying attitudes on poles and attached to the front of the building.
There is also a comprehensive indoor display that details the history of the RSAF, it's technological side and future directions as well as it's humanitarian functions.
Highlights of the museum for me include the two-seat A-4 Skyhawk trainer, modified locally and unique to the RSAF and the quality of the inside displays.
I walked there from the Eunos rail station, but that takes nearly an hour in the Singaporean heat, so you might want make other arrangements. No doubt there is a bus that will get you closer.
---
Image Gallery
To see a photo gallery of the pics I took while I was there, click on the picture below. There are also walk round galleries of many of the museum's display aircraft in the walk around sections of the site.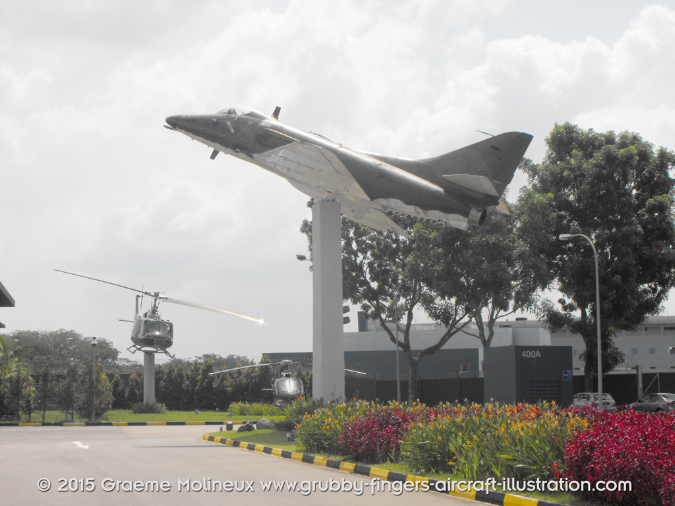 ---
Back to Grubby Fingers Museum Guide
This page was last updated 16 February 2015
---