Sukhoi Su-7/Su-17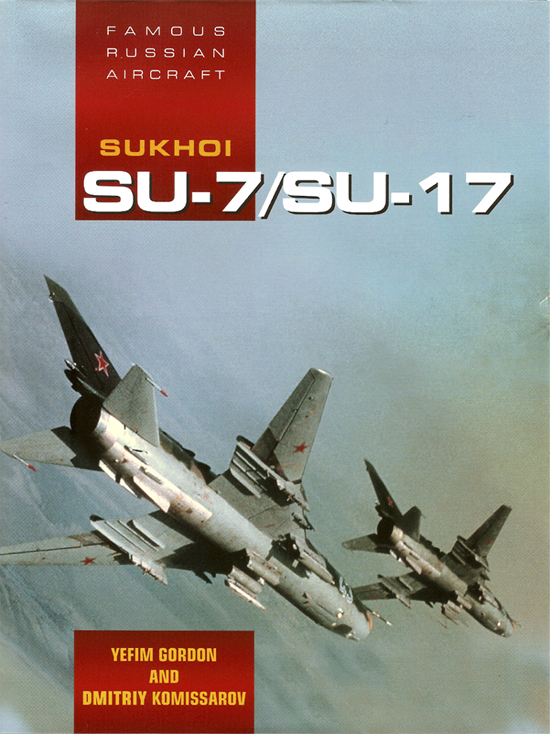 Sukhoi Su-7/Su-17
Famous Russian Aircraft
Authors: Yefim Gordon and Dmitriy Komissarov
I don't often receive a book of this size and stature to review, so when the opportunity arose, I grabbed it with both hands; and with very good reason. This is, as I thought, an absolutely brilliant offering – a big 544 page, hardback book, profusely illustrated with black & white and colour photographs, colour profiles, line drawings, cutaway views and informative text. Basically, your usual, bog standard Midland Counties publication!
This volume is the latest in the 'Famous Russian Aircraft' series by Yefim Gordon and Dmitriy Komissarov and published by Midland Counties. There are many inadequate superlatives to describe the wealth of material presented here – staggering comes to mind, as does superb, but neither does it justice. This vast volume covers the Sukhoi Su-7 Fitter and Su-7B fighter/fighter-bomber and its later successor, the swing wing Su-17. This then leads into the later export versions, the Su-20/22.
Code named 'Fitter', the Su-7 was the backbone of the Soviet Air Force and its Warsaw Pact partners from the beginning of 1960 and saw action over the Middle East and the Indian sub-continent during several 'disputes'. The diversity of Middle Eastern and European operators, especially amongst the latter after the break up of the Soviet Union, provides a vast array of colourful camouflage options for the modeller and the huge number of colour photographs provide ultimate cockpit and weapons stores detail for the most finicky of master modellers.
The depth of information is immense but easily readable and it ranges from development and production detail to in-service with Soviet, Warsaw Pact air forces and those other 'client' importers. There are eleven chapters and two extensive appendices. But, there's too much to take in with just one read, stimulating though it was. This is a valued reference work and one I'm very pleased to have. Now, how do I get the others in the series?
Without the shadow of a doubt, this is a great book for any aviation enthusiast at a very competitive price. It is available from Hyland's Bookshop in Melbourne www.hylandsbookshop.com.au or 03 9654 7448 for about $99. Recommendation – buy it!! You won't be disappointed.
Many thanks to Ms Orietta Colussi at DLS Australia Pty Ltd for the review copy.
Review by John Baxter
---
Back to Aviation Books from Sukhoi Su-7/Su-17 Book Review