GRUBBY FINGERS MUSEUM GUIDE

Aviation, Military, Transport and
Maritime Museums in Australia
---
TEMORA AVIATION MUSEUM
Temora Airport (TEM)
1 Menzies St
Temora, NSW
P: (02) 6977 1088
F: (02) 6977 1288
E: info@aviationmuseum.com.au
W: www.aviationmuseum.com.au
Temora Aviation Museum is situated smack in the middle of New South Wales at Temora, A short drive from Wagga Wagga. It is easily accessible from both Canberra and Sydney, and a full day's drive from Melbourne.
Temora Aviation Museum is one of the most active flying museum's in the country, rivalled in this regard only by HARS. Temora has a fully flying fleet. All the aircraft they exhibit are either airworthy or being returned to airworthy condition.
They regularly put on flying displays at Temora and will often put aircraft in the air for air shows Australia-wide. Check their website for details (link below)
Their fleet includes two Cessna Dragonflys, two Spitfires, Meteor, Canberra, Tiger Moth, Boomerang, Sabre, Cessna O-2, Ryan STM, Hudson and Vampire.
In addition to the flying fleet there are historic displays depicting wartime life on the air base and the history of aviation in Australia. There is also a viewing are that lets you see something of what is involved in keeping these beauties in the air.
---
Image Gallery
To see a photo gallery of pics I have taken over several visits, click on the picture below.
I have extensive walk around galleries of most of the Temora fleet in the walkaround sections of this site.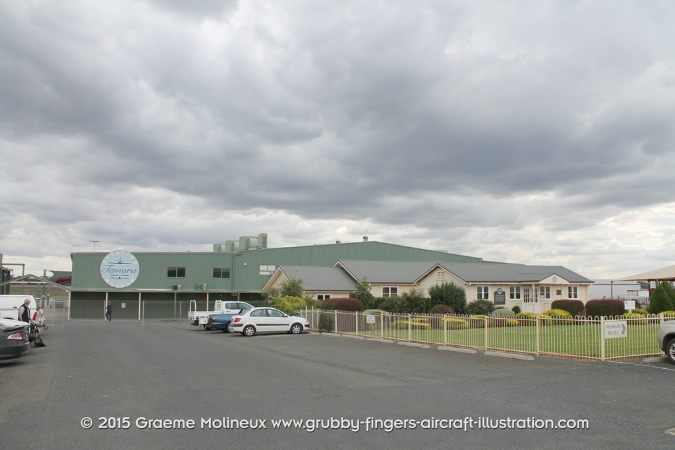 ---
Back to Grubby Fingers Museum Guide
This page was last updated 15 February 2015
---