US Bomber Development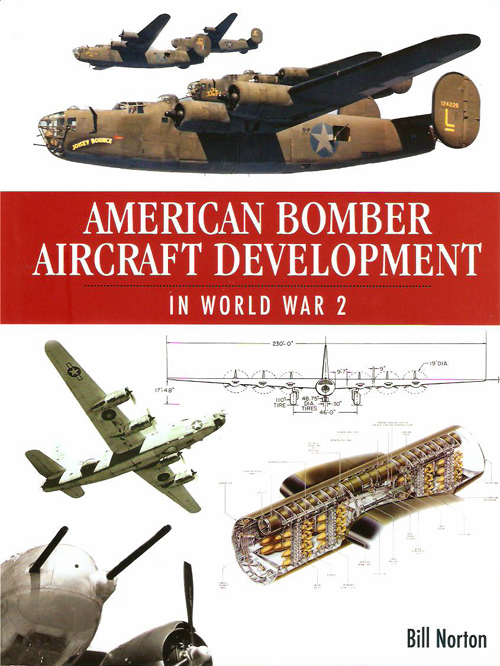 US Bomber Development
in World War 2
Author: Bill Norton
I was very pleased when I received this book for review, and after reading it through, I've found it to be well worth the wait. This is an exceptionally good work on US bombers, not only for the wealth of information but the excellent illustrative content to compliment its extensive text.
Published by Midland Publishing and written by Bill Norton, this 224 page, lavishly illustrated volume covers not just a wide range of bombers but also their equipment and associated development. It covers the rapid advances in aerodynamics, engine, turbo-superchargers, bombsights, bombs and rockets, radar, guns and turrets – and that's just in the first chapter!
Operational information is quite limited, as you would expect from the title, however, the historical and technical aspects are chronologically presented within each chapter and things technical are easily manageable so you're not bogged down in heaps of techno-terms. The amount of material presented is remarkable, quite informative and well written.
Aircraft types covered include B-17, B-18, B24, B-25, B-26, B-29, B-32 plus A-20, A-26, PB2Y, PB4Y and Hudsons, Baltimores, Marylands, Venturas, early Neptunes without going into project aircraft, of which there are many. There two pages on the huge XB-19, for instance, with two very nice b&w photos and one in colour.
The extensive use of predominantly b&w photographs is well laid out and most of the photos are new, in fact, practically almost all are new to me, and they're been presented so well that the crispness is staggeringly brilliant! There are several, excellent contemporary colour pictures along with a wealth of b&w three-views, cutaways and illustrations of projected types. With all these presented on glossy stock, the quality of reproduction is truly top notch.
We see flying boats, bombers, attack aircraft, early jets and their predecessors or projected aircraft types that didn't reach metal cutting stage. It could be mistaken for a primer and that would be very wrong. This title goes much deeper, is well researched and very well presented. I was delighted that so much could be placed in this single volume.
This is an impressive book for any aviation enthusiast, especially the WW2 aviation enthusiast, at a very competitive price thanks to our dollar's continuing high exchange rate. It is available from Hyland's Bookshop in Melbourne www.hylandsbookshop.com.au or 03 9654 7448 for about $50. Is this a good buy? Is Black Caviar a race winner?
Many thanks to Ms Orietta Colussi of DLS for the review copy.
John Baxter
---
Back to Aviation Books from US Bomber Development Book Review