Bell P-39 Airacobra
Walkaround Photos
This Airacobra, AC41-6951, is part of Syd Beck's collection at Mareeba in northern Queensland.

It was force-landed and damaged during a ferry flight from Townsville to Port Moresby in 1942 and stayed in the far north Queensland scrub for over 30 years before Syd pulled it out.

Before Syd could move it, the RAAF had to inspect the derelict Airacobra as it was still fully armed with 30mm canon shells! Unfortunately the RAAFies couldn't safely disarm the plane due to the corroded state of the ammo and guns, so they elected to detonate the ammo in-place. This, of course, caused considerable damage to the nose of the plane. Syd and his sons have spent many years repairing it.

It is recorded as the first USAAF aircraft to score a combat kill in New Guinea during WWII. It was named Erminie after the pilot, Lt Charles Falletta's, wife.

The Beck Collection, as it is known, is quite extensive and well worth a visit if you are in the area.


| | | |
| --- | --- | --- |
| | | |
| Airacobra Pic 1 | Airacobra Pic 2 | Airacobra Pic 3 |
| | | |
| --- | --- | --- |
| | | |
| Airacobra Pic 4 | Airacobra Pic 5 | Airacobra Pic 6 |
| | | |
| --- | --- | --- |
| | | |
| Airacobra Pic 7 | Airacobra Pic 8 | Airacobra Pic 9 |
| | | |
| --- | --- | --- |
| | | |
| Airacobra Pic 10 | Airacobra Pic 11 | Airacobra Pic 12 |
| | | |
| --- | --- | --- |
| | | |
| Airacobra Pic 13 | Airacobra Pic 14 | Airacobra Pic 15 |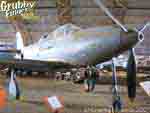 Airacobra Pic 16

References:
Flightpath magazine. Vol 11 no 4. "Erminie" by Terry Gwynn-Jones
---
Grubby Fingers Home from Airacobra Walkaround

Go to Piston-prop Walkarounds from Airacobra Walkaround
---