Barracuda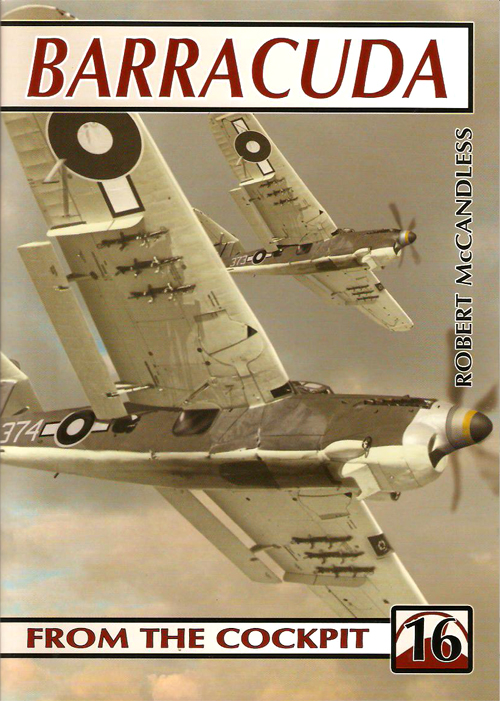 Barracuda
From the Cockpit 16
Author: Robert McCandless
I doubt that you could call the Fairey Barracuda an aesthetically pleasing aircraft, but it was functional and in time of war, that's of far more importance. This latest release from Ad Hoc Publication's 'From The Cockpit' series (No 16) is a really impressive volume. Chock full of amazing photos and superb colour profiles, it pleasantly surprised me somewhat with its content.
It follows the standard format for Ad Hoc with its A4 size, stiff card covers and glossy stock throughout its 144 pages which contain 163 black &white photos (many I believe not published previously) and 30 superb, full colour profiles plus a double page full colour 4-view. Much of the text is anecdotal with previous crew members recalling their times in the type. The author, Robert McCandless contributes the majority of information, naturally.
Now, I'm not normally one who enjoys a large amount of anecdotal recollections but this one is a bit of an exception. It covers the history of the type from development to training and service life extremely well.
The photo captions are very informative and not the least bit anecdotal. I can't recall a better, or even any, book like this on the Fairey Barracuda, so this one fills in a gap very nicely indeed. I'd not read previously of wing failings and instability problems that the type suffered – and not just through 'pilot error' with regard to the former. Recommendation – if you have little or nothing on the Barracuda, then this should suit you admirably – pardon the pun.
This is really a great book for any aviation, Fleet Air Arm or World War Two enthusiast at a very good price. It is available from Platypus Publications for about $48 plus postage.
Many thanks to Ley Reynolds of Platypus Publications for the review copy.
John Baxter
---
Back to Aviation Books from Barracuda