Mussolini's Navy Book Review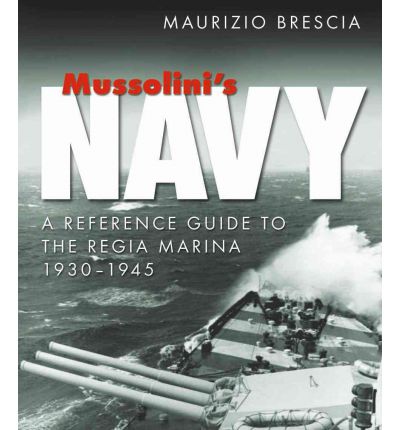 Mussolini's Navy
A reference Guide to the Regia Marina 1930–1945
Author: Maurizio Brescia
Magnificent! When I received this in the mail recently, I quickly flicked through the pages for a quick impression then sat down to read it cover to cover – it's that good! This is, I believe, the first comprehensive English coverage of the Italian Navy of World War Two (and indeed from its beginnings in 1861). And it's a very welcome and long overdue addition to my naval library.
Published by Seaforth Publishing, an Imprint of Pen & Sword Military Books Ltd, this large, squarish book (25 cm by 30 cm), is hardback, contains 240 pages and is illustrated with a superb 384 black and white photos of startling clarity plus eight colour photos and thirty six colour profiles on quality stock. Superb stuff. Then there's two pages of colour flags and pennants.
The text, written by Maurizio Brescia, reads easily and is informative and extensive – all you could want. The early history of the establishment of the Marina is well covered as are World War One operations. The bases – dockyards, naval bases, ship yards and coast defences - are nice inclusions, along with appropriate illustrations. World War Two operations are well covered before we turn to a description of the ship types, each with fine line drawings, thirty-three in all.
Coverage includes the major warships naturally, as well as the smaller ships, plus escort vessels, patrol boats, submarines, miscellaneous vessels, underwater assault craft and naval aviation. Three-view drawings of four aircraft types accompany the eight photos. Then there's a chapter covering uniforms, ranks, insignia and decorations and finally a Who's Who. Overall, it's a great book covering the Regia Marina extremely well.
Interestingly, I've been informed, indirectly by the author, that there has not yet been an Italian edition, so this edition is actually the first to be published.
A great book for any military enthusiast and a must have for any WW2 naval aficionado. I purchased my copy from Platypus Publications (see ad this issue) platypuspubs@y7mail.com or Box 13, Post Office, Glenbrook, NSW 2773. Cost is $75 and worth every cent. ISBN 9781848321151. My recommendation is to grab it when you can, opportunities might be slim and you do not want to let this one slip through your fingers!
John Baxter
---
Back to Aviation Books from Mussolini's Navy Book Review