No 452 Sqdn RAAF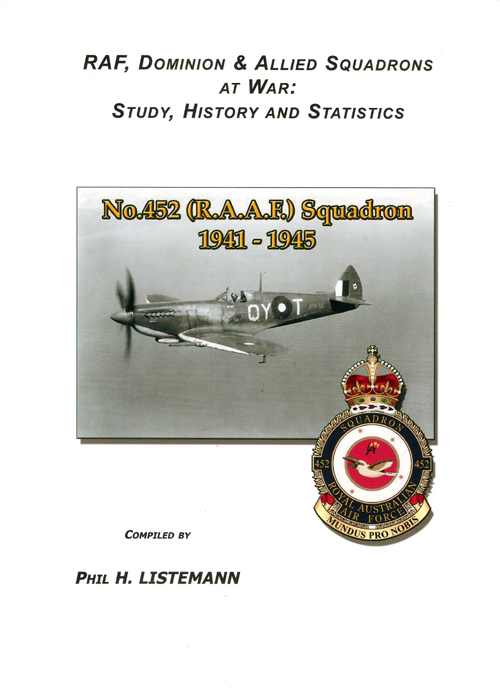 No 452 Sqdn RAAF 1941-1945
RAF, Dominion & Allied Squadrons at War: Study, History and Tactics
Author: Phil H Listemann
Timing is everything! Hot on the heels of 'Darwin's Spitfires' recently reviewed is the latest in Phil Listermann's series on RAF, Dominion and Allied Squadrons at War, involving one of the three Spitfire Squadrons making up the Darwin (Churchill) Wing. In the new format as used in 'Allied Wings No 9 NA B-25 in RAAF Service' (reviewed in ModelArt Australia Issue No 60, April/May 2011) ie A4 size with clear plastic cover, this is a very welcome addition to any RAAF enthusiast's library – mine included.
It's 42 pages starts with a brief history of the Squadron, then comes the statistics in nine Appendices covering bases, squadron and flight commanders, major awards, operational diary – number of sorties per month, victory list, aircraft lost on ops, aircraft lost in accidents, aircraft serial numbers matching with individual letters, list of known pilots posted or attached to the squadron and Roll of Honour. Then there are 42 b&w photos, plus an additional three glossy stock pages with ten colour profiles and the Squadron badge. Each study of this title is individually printed, bound, numbered and signed.
The research is extensive and very nicely presented. The photo quality ranges from very good to a very few which are slightly blurred or perhaps just a bit too pixelated. However, we need to remember that many photos presented in these types of publications were taken at forward bases, in time of war and often by amateur photographers. Now, despite those minor drawbacks, each photo is valued and we are very fortunate to see them and they remain important and revealing snapshots of the time. The captions, which accompany each, are both concise and informative.
My recommendation is to get one if you have the slightest interest in RAAF ops in the SWPA. I found it an excellent production overall and I eagerly look forward to more in this series. This is a very informative booklet for any military enthusiast at a very competitive price. It is available from Platypus Publications for about $28 .
Many thanks to Ley Reynolds for the review copy.
John Baxter
---
Back to Aviation Books from No 452 Sqdn RAAF