The Stang Book Review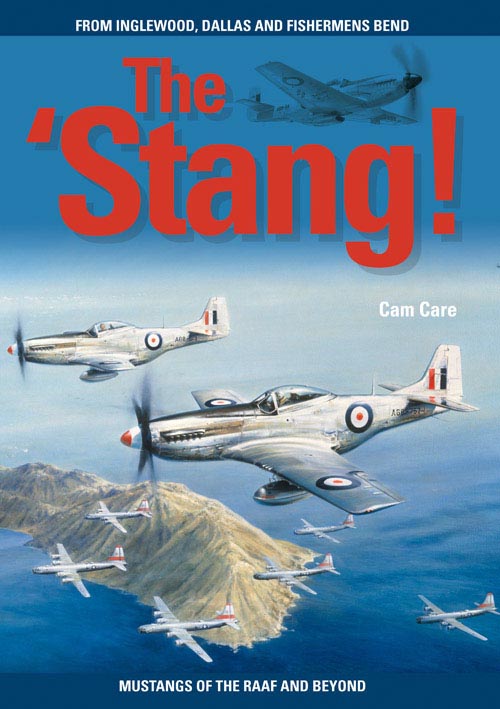 The 'Stang!
Mustangs of the RAAF and Beyond
Author: Cam Care
The 'Stang! by Cam Care is a detailed history of the Mustang in RAAF service and beyond. Following a look at the gestation of the Mustang, Cam describes the service of the Mustang with the RAAF from its use by 3 Squadron in the Mediterranean flying British supplied Mustangs and later their brief time in the Pacific at the end of World War 2, its manufacture at Fishermens Bend in Australia through to its service in Korea. The use of the Mustang by the part-time Citizen Air Force squadrons and various smaller units such as the Air Armament School and ARDU which conducted experimental flying with the type is also covered.
The life of Australian Mustangs after military use is thoroughly documented giving the readers an insight into the various people who have saved the aircraft from the scrappers and kept the Mustang still flying today.
An extensive appendix gives construction details and technical data of the Mustang, a history of the RAAF and CAF units who flew the Mustang and a full fleet listing of all North American and CAC Mustangs that flew in the RAAF plus an extensive chronology of the aircraft.
The book is lavishly illustrated with over 500 black and white and colour photos, some of which have never been published before. Specially commissioned colour profiles by Graeme Molineux supplement the text showing the various colour schemes worn by the Australian Mustangs in both military and civilian use.
The 'Stang! is a must for any Mustang enthusiast with an interest in its service with the RAAF and its civilian use in Australia and overseas. This book makes an excellent companion to Southern Cross Mustangs as it covers the extensive history of the type in Australian service.
The 'Stang is published by Red Roo Models and is available from the Red Roo Models webshop.
Gary Byk (Red Roo Models)
All the Mustang drawing profile prints from The 'Stang are available at the Grubby Fingers webshop.
---
Back to Aviation Books from The Stang Book Review
Your first paragraph ...